First pic of the day. The t-shirt i got from Chicken Alaska. neat place, but the roads to go there suck.
The motel in Anchorage wasn'tthat bad for the price (compared to the rest in the area, but it wasn't great. At least it had HBO. The motel was across the street from the airport and i could see the Control tower from my door. The back window showed no promise as it was a broken down clothes dryer.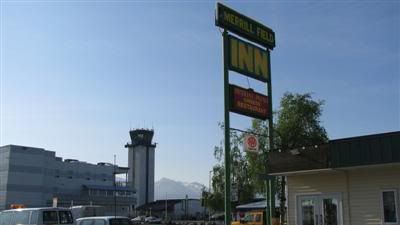 I signed out of the room and headed towards my destination for the day. Homer, Alaska. Jewel comes from there i heard.
I took the seward highway to Homer. Absolutely Beautiful. A ton of bikers were out today, and i could see why it's a destination of choice for bikers.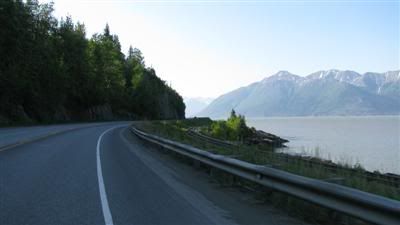 This little bird was cute. kept giving me the stink eye though. Reminded me of the bob marley song "three little birds". that song keeps getting stuck in my head. if you haven't heard it. listen to it. here's some lyrics;
Dont worry about a thing,
cause every little thing gonna be all right
Singin: dont worry about a thing,
cause every little thing gonna be all right!
Rise up this morni
n,Smiled with the risin sun,
Three little birds
Pitch by my doorstep
Singin sweet songs
Of melodies pure and true,
Sayin, (this is my message to you-ou-ou:)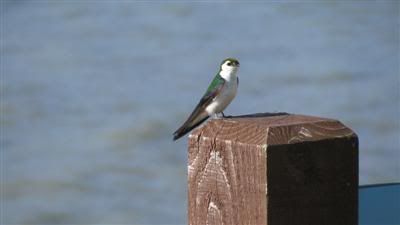 the views.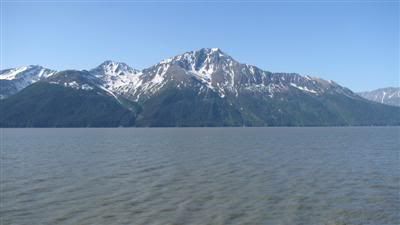 obligatory bike pic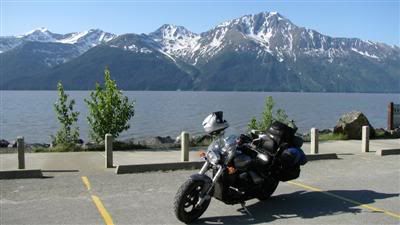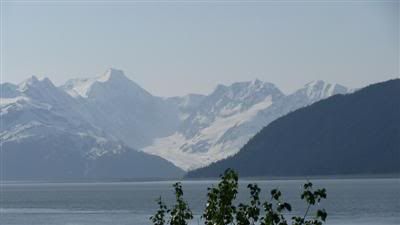 drive by shooting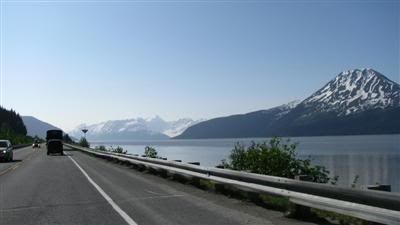 Stopped at the Sunrise inn for some gas and decided it was a good time to get breakfast. The breakfast was great and it was a really nice place. I'd go back.
from the table at the sunrise inn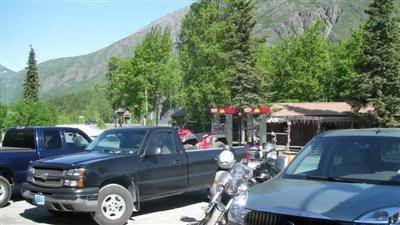 delicious
more views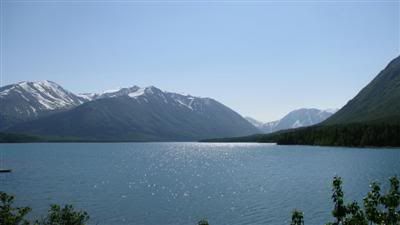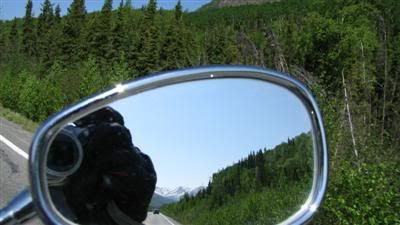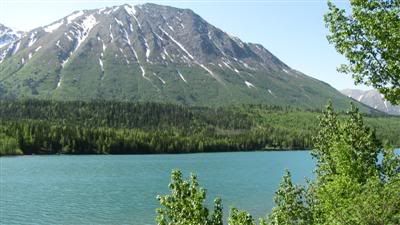 The two volcanoes across the bay.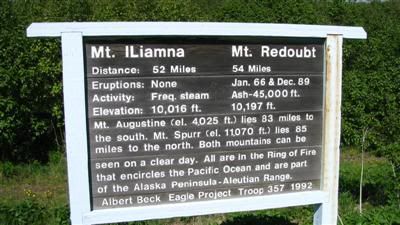 see?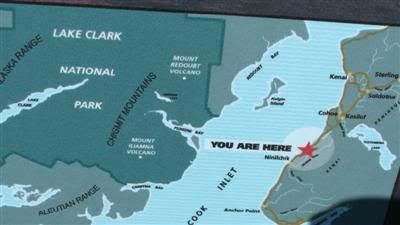 Iliamna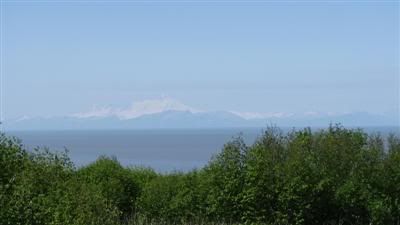 redoubt. you can see it smoking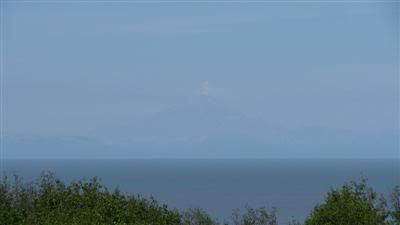 iliamna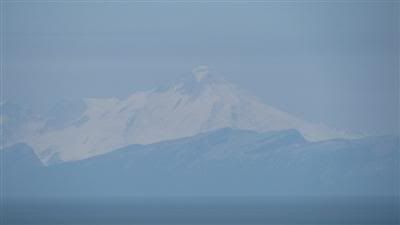 Redoubt smoking... 54 miles away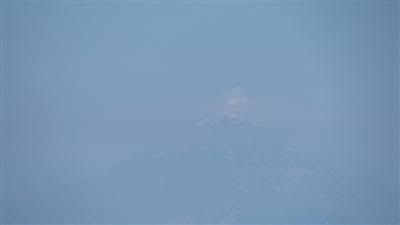 Stopped at a lookout in Homer and met Johnathan. He works for the local radio and we chatted for a long time. He's originally from Indiana, but moved here 5 or so years ago. I can see why. He explained to me about all the volcanoes, about the area and we talked about biking (he used to ride). I had heard that there are a bunch of Bald Eagles at the Spit(the arm of land that goes to the sea where the ports are) in Homer, but Johnathan said that if i wanted to see a lot of them up close, go to the dump since that's where they hang out. He thinks the Turkey should have been the national bird (as with Ben Franklin if i recall). Johnathan was a great wealth of information on the area.
the overlook at homer where i met johnathan
bald eagle at the lookout. there were more and closer, but didn't manage to get the camera out in time.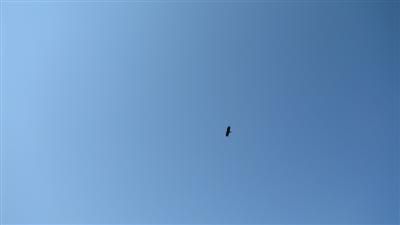 tried to get a pic of johnathan but he was too fast (and i too shy to ask him for a pic)
drive by going on the spit to the end.
\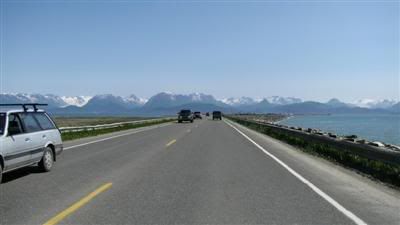 pics from the spit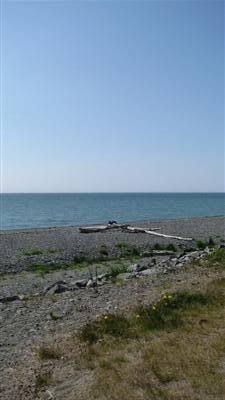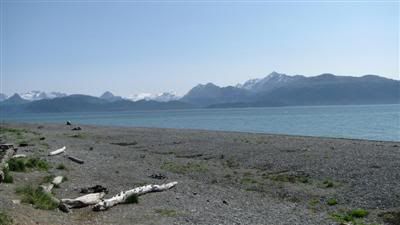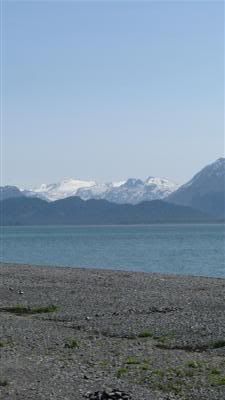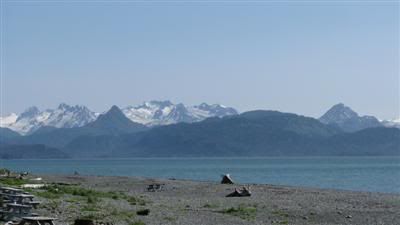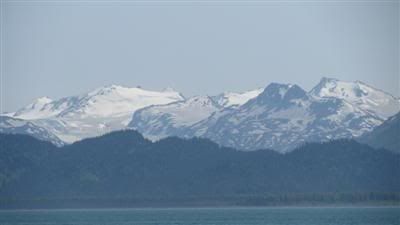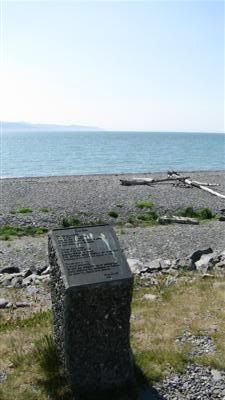 The Spit was a bit too commercial for me, but i could have taken the ferry all the way to Dutch Harbour. I didn't.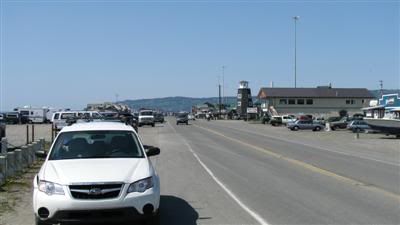 people fishing at the end of the Spit. to the left (out of frame) you can take a ferry to
dutch harbour.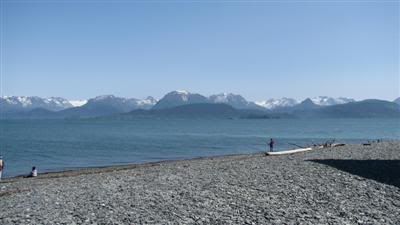 Pictures from the beach/public camping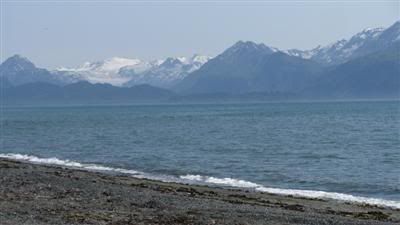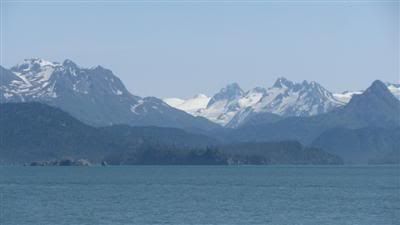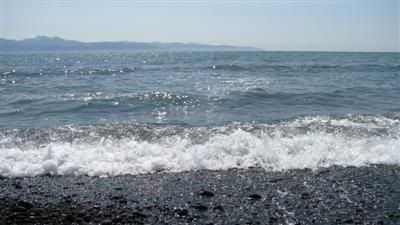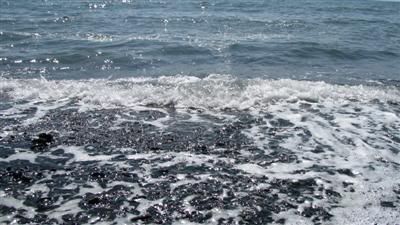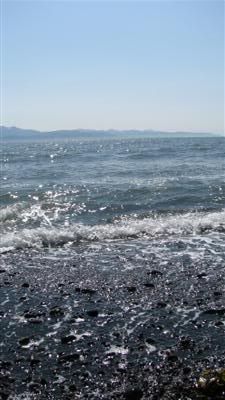 I did go wade out in the water. The pacific (this part anyhow) isn't as cold as the Atlantic i went swimming in last year. Still gives me shivers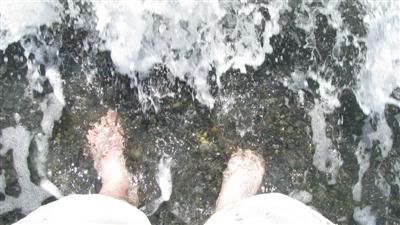 obligatory bike pic. Beast wants to go for a swim. maybe just a bath.
mount redoubt again
Mount Iliamna again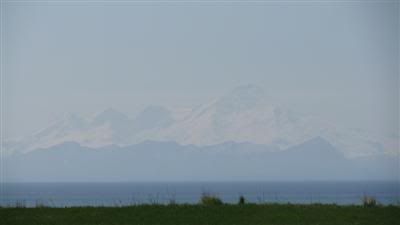 I left Homer and made my way back to Anchorage, trying to think of where i should spend the night, but i wanted to eventually make my way north.
I stopped at a safeway and got some supplies for the night. I had decided on camping out to try to save some money, plus it's fun.
When i was packing my bike up, I hear this awesome accent asking where i'm from. I nearly melted into a puddle right there. She's full irish but living in Palmer now. a) she was smoking hot. b) she had that irish accent that can make you weak in the knees. hah.
we chatted for a bit (mainly about my trip) and we went our separate ways. sorry boys, no pics, her boyfriend was standing right there and i don't think he would appreciate it. hah.
Something tells me i see a riding trip for a month in Ireland... maybe next year.
I rode for a bit more and all the traffic was putting me to sleep. hot. traffic. monotony. at one point i looked down and my right fog light was hanging from the wires. WTF?

Passed a moose that was on the white line on my side of the road. With traffic going both ways, i slowed down but kept going. wow. big beast when you're 3 feet away from it. no chance for a picture as there was too much traffic.

I decided to take a break and pull over next chance i got.
I killed the engine got off the big and... uh oh. forgot to put the sidestand down. oops. Drop #3. no damage and was able to pick it up. Rule of thumb kids. don't ride if you're exhausted.

Looks like the bracket i made broke in half. odd. it got rusted out somehow. really odd.
I rode some more and looked down and my right PIAA light was off. crap. burned out maybe? I'll look at it later in the day. only have 1 spare of those.
no pics as i was trying to find a camping spot for the night.
I found a national campground and got some wood. I noticed that when i took the wood off, i snapped the neato fuel line vent tube. crap. Swapped out the piaa and took off both the fog lights. Meh. don't need them really, if i get stuck, i'll figure something out.