June 23rd
I woke up and called Holeshot performance motocycle shop. The looked and called around and there was no radiator anywhere nearby. They have to order one on Suzuki Canada from Toronto. I rode over to the shop to put a deposit for the radaitor and for them to check out to see if it could be fixed. can't be repaired. to repair it would have taken a few days anyhow. they should be able to get one next day. that settles that.
I walked around their shop (nice shop) and looked at the new 2009 klr650. holy crap. $5799 Canadian they want for it. holy crap i want it. i didn't sit on it because i'd be afraid i'd buy it right there and try to figure out a way to get back home.
I left, went back to the hotel room and picked up my dirty laundry. might as well do something useful today while i wait. earliest they'll get the rad is the 24th.
my left PIAA light was winking out as well, so i figured i'd fix that while waiting for laundry. I brought some tools but couldn't find my electrical tape. i guess i'd pick some up nearby.
The coinwash was in a cluster of strip malls, and had a gas station, so i figured there'd be tape there.
I put the load in the wash and walked to the gas station. no electrical tape. crap. the clerk said that they should have some at the dollar store out back.
Sure enough, i found some good quality electrical tape there. SCORE! 1 buck.
I was running out of wire going out to the PIAA light, since i had repaired it a few times before. luckily the harness that came with the fog lights was quite long, and had female connectors on one end. This is good since with all the work i've done on the bike, i'm starting to run out of connectors.
I cut the wires and put some male connectors near the light, then used some butt connectors to spilce in the long wires back to the PIAA harness. all crimped properly, and now wrapped in tape, it works better than new. huzzah!
I called my boss and left a voicemail saying i would most probably be late to be back at work for the 2nd. the way i had planned it, i'd already be 1/2 way back across country by now, and didn't account to be down for 4-5 days. that's a minimum of 2500km i lost in those days. ack.
I had forgotten i had my camera on me, so i took a picture of the bike with the mountains in the background.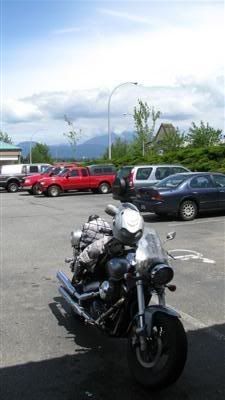 I had not eaten yet, so i rode around for a bit, looking for something interesting to eat.
I rode down to Fort Langley, which some call the birthplace of B.C. and rode around looking at the neat town. I stopped in at the visitor information booth and spoke to the ladies there. They told me some good information about the town. Then i asked a ridiculous question which had them stumped for a few seconds.
"are there any odd roadside attractions nearby, like giant things?" I had remembered reading about a giant chair in the area but didn't know where it was.
They said to try Valley furniture on Fraser hwy (near 200th street) and i should be able to see it.
off i went in search of food and the chair.
I saw on the gps a place called ChooChoo and headed down that way. it was a block south of the fraswer hwy and on my way to the chair. It was down a pretty cool street with a bunch of different shops, and NO chain stores. really neat place. i think this was langley's original downtown at one point. I parked in the motorcycle only parking (w00t) near the ChooChoo restaurant.
I changed my mind. there was a mexican place right next door so i headed there instead. The place looked authentic and had mexican music playing.
I sat down on the patio, enjoying the good weather, the mexican music and the view from the street. yes i know, the picture doesn't show that much of a great view, but it was a quaint street.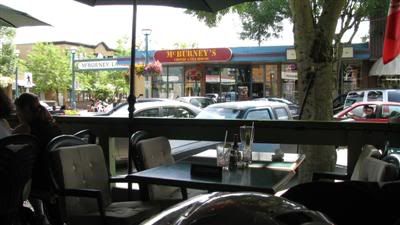 The server came by to take my order. He spoke with a slight mexican accent. that's good. maybe the food will be good.

Score! i ordered 6 mexican tacos(beef). not gringo tacos like they have at taco bell, but authentic mexican tacos (i think they were, i wouldn't know... i've never had them before)
They were really good, but a little greasy being on the plate. had they been served on paper or something, it would have been easier to eat. I ate a few with my hands, but it was messy. i ended up using a fork and knife.
delicious.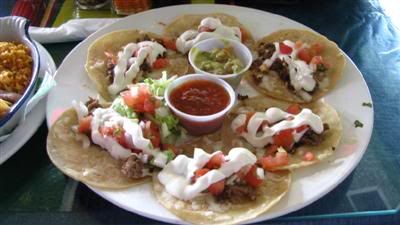 I added and enchilada (chicken) to my order, and it came with refried beans and rice.
it was all really good. and filling. i ate it all.
Since it was such a nice warm sunny day out, and i was on a patio, i ordered a Strawberry Daquiri. they had 2 sizes, large and small. the small only had 1oz of alcohol in it, so i took that one. I don't normally drink and ride, but one wasn't going to do much to me on a day like this.
This is the place i ate at. Viva mexico. probably the best mexican i've ever had. then again, the furthest south i've ever been in my life has been Chicago, so what do i know.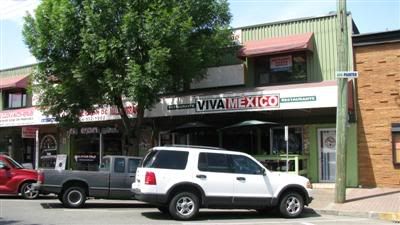 The view of the street it was on. it seemed to have a slower pace than the rest of the city. i'm not sure why. it was nice to see all different shops that weren't huge chains. i hate the big corporate chains... seems their only in it for the money.
I rode down Fraser hwy and blew by the chair. I did a u-turn when i could and pulled on the other side of the road. There's no real place to pull over so i just put my signal light on and stayed in the lane. ya. safe.
had to take the picture over my shoulder with traffic going in both directions, but still got it.
quite large.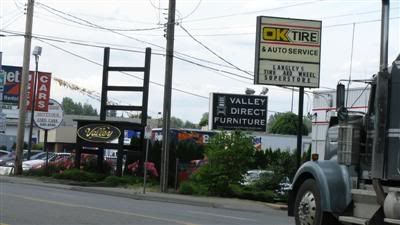 I didn't do much for the rest of the day. surf the internet and later on i went down to Denny's for some supper. It's pretty easy since the Denny's is attached to the hotel. There's the shark club attached to the hotel as well, but not in the mood for something expensive.
I looked at the menu and saw chicken fried steak. I'd never had it before so i took it and a side salad. I need some type of veggies sometimes. hah.
Not bad actually. not something i'd eat everyday, but certainly different. for those who don't know what it is, it's ground beef patties that are battered ala KFC and then smothered with country gravy. (white gravy) it's a bit rich, but i like it.
back to the room to await the call saying my rad is in. they said the rad should be there by about 2pm. ack. running out of time.