I woke up feeling like crap. I think staying up late did me in. Maybe all that greasy KFC didn't help any at all. Rule of thumb for any traveller. Don't eat KFC when you're on the road. unless what you are driving/riding has a built in toilet.
a skewed view of the campground.
so i decided to go north and attempt to go to the arctic cirlce. might as well try while i'm here.
Stopped at Grandma's pies. was told they were good.
I got one. It was good.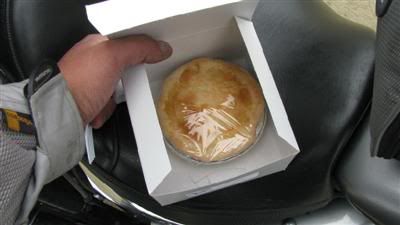 some construction on the highway north of fairbanks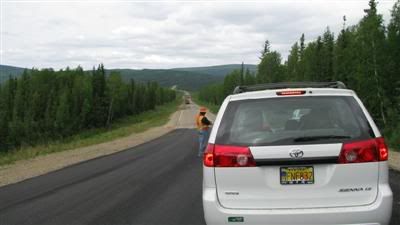 I seemed happy as a clam don't i? that'll change. hah.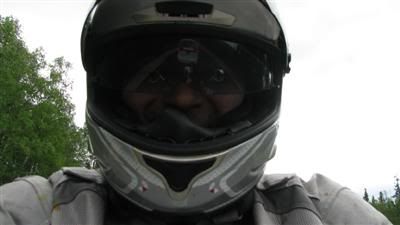 some views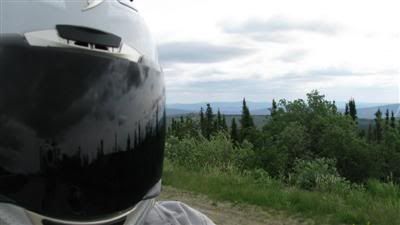 the sky threatened to open up and pour, but it didn't.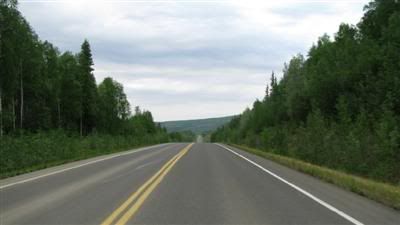 Woot. Got to the start of the Haul Road. The James Dalton Highway.
There was an Alaskan Motorcycle tour guide talking to two other bikers on GS'. He said that if i had a problem that his tour had a support vehicle (with extra bikes) following them the whole way and they'd lend me a hand if i needed it.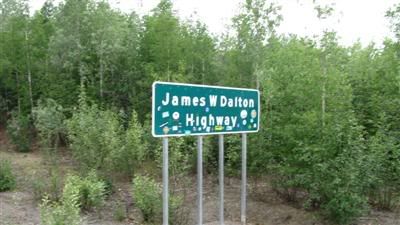 These are the two that were talking to the guide. it was dusty. real dusty.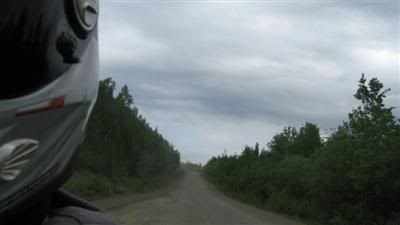 I had to give them a lot of space. we had to all stop because we couldn't see a few times.
Then we hit the first of the mud. It was pretty bad and i thought i was going to go down a few times. the BMW guys had their feet out for a lot of it, almost acting as skiis, but none of us went down.
at the second patch of put (about a mile or so long) they went into a pullout hafway through. I never saw of them again.
I heard later from other riders that they were deciding between going to deadhorse or go on a hot springs tour. looks like they turned around.
it was pretty muddy, but i soon learned that this is nothing. it gets worse. way worse.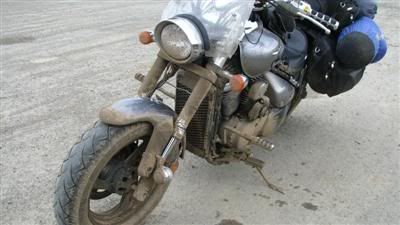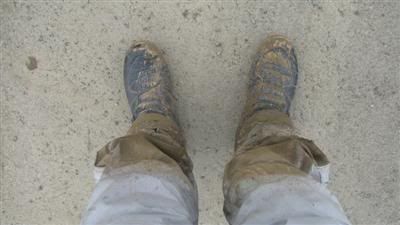 Nice Scenery though
The road was in good shape. The pipeline is the only reason for this road. it'll be in many many pictures.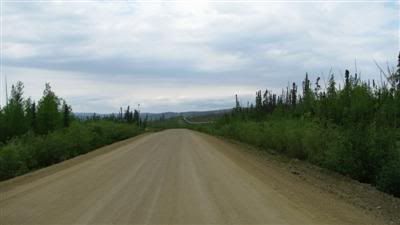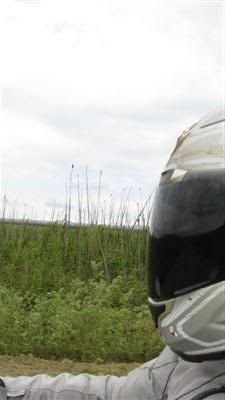 one of the pump stations on the way up to the arctic circle. can't remember what number. 6 maybe?
This is the long bridge crossing the Yukon. This camp is aptly named Yukon Crossing.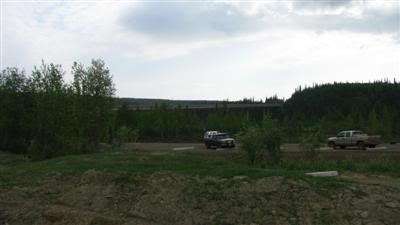 The yukon crossing all in one shop.
muddy. At this point i had caught up to the KLR tour group and many came out to take a picture of my bike. they thought i was some kind of hero. no quite, just extremely niave and ignorant. some would just call me crazy i suppose.
I met a large (east)indian family here travelling to the arctic circle. Nice bunch of people.
There was only 1 gas pump. the tank was above ground and it's not something you see often.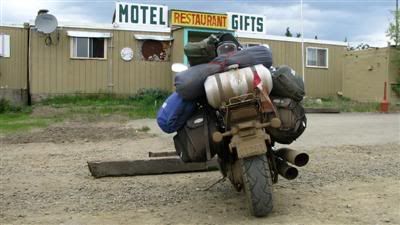 Got gas and headed to the Arctic Circle.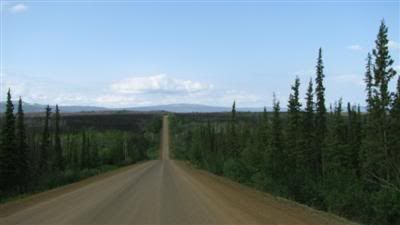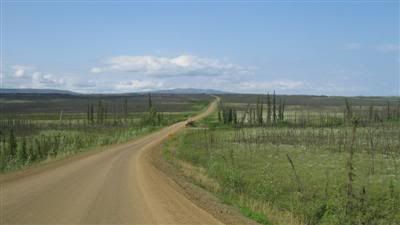 obligatory bike pic.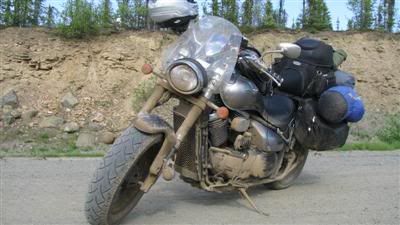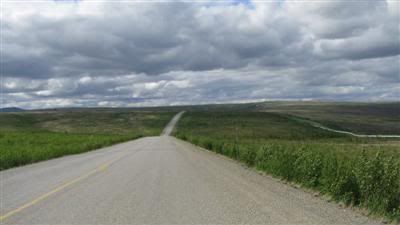 Got to finger mountain. neat area. the rocks get pushed out of the ground by the permafrost, and it creates this.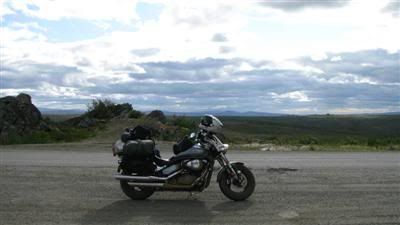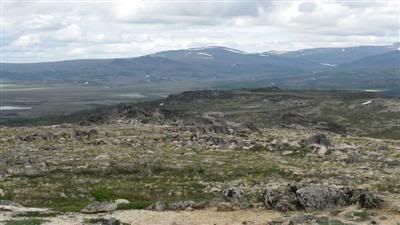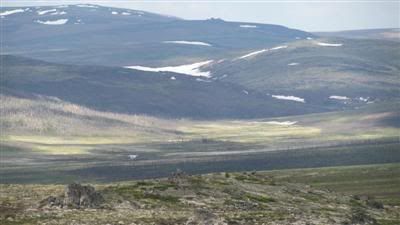 heh. cheesy picture.
do you know how hard it is to set a timer, then run, jump up rocks and pose as a fat man? now easy.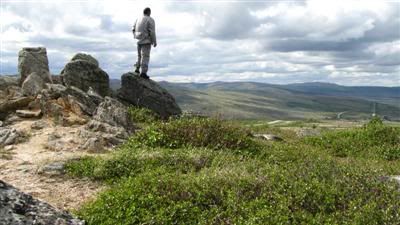 Heh.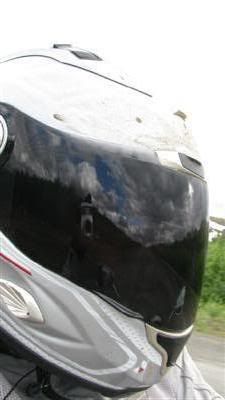 I made it to the Arctic Circle!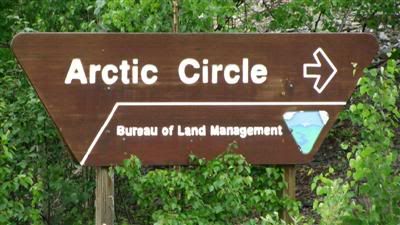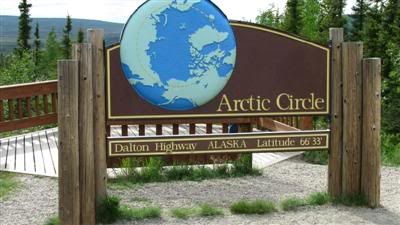 I took group pictures of The family, and they took mine. I should have taken a picture of them with my camera, sadly i didn't.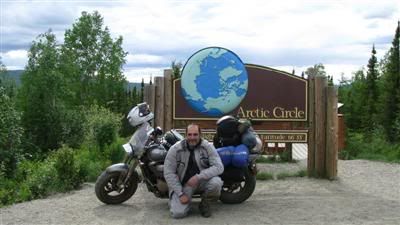 I didn't know if i should turn north of south, but it seemed close to get to coldfoot camp, so i decided to head north and see how it goes.
Got to Gobblers Knob. Seriously? who would name this??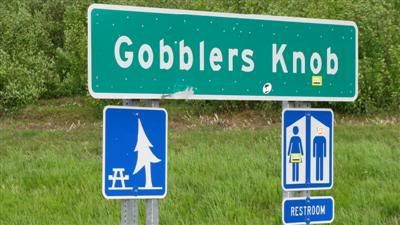 The mountain ranges in the distance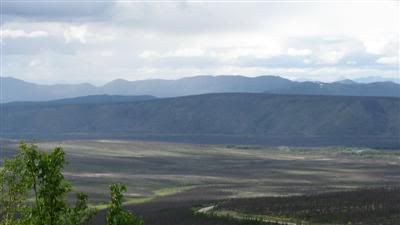 The road i came from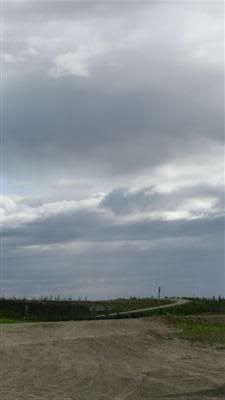 I found Chubbs! I don't know what he was doing all the way up here, but he seems to have lost weight. (sidenote, yes i made him)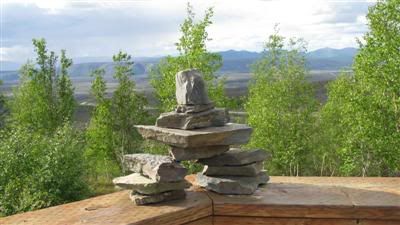 Chubbs checking out the views.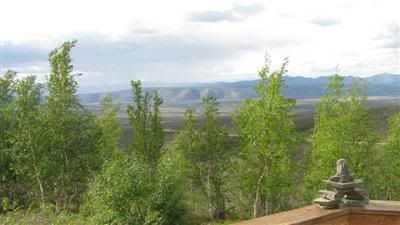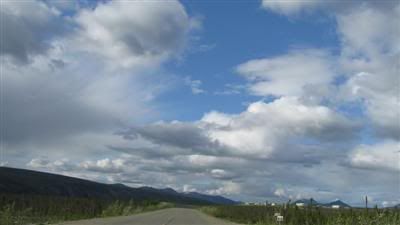 They say there's a pot of gold at the end of the rainbow. they're right, it points right to the oil.
whew. it was a long ride and a rough ride to get there.
I didn't know what to do now so i wanted to see if i could book an arctic tour to get to the arctic ocean. I bought a calling card and tried calling the Caribou inn. over and over... and over.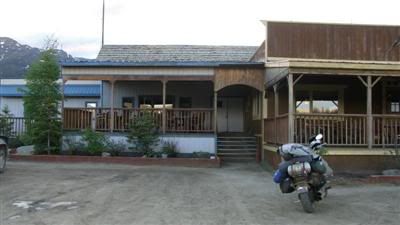 I finally gave up and was going to camp up the road. I would try to call the caribou inn in the morning.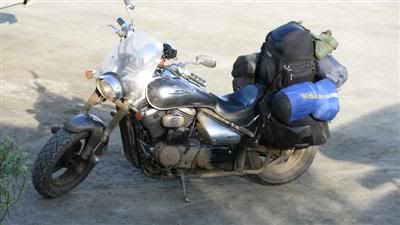 I got to the bike and I met John and Ulla from Denmark. (they are on the left)
we chatted for a while and thought what i was doing was amazing (read: crazy)
John (probably Jon) and Ulla were on the bus trip north to Prudhoe bay, where they would take a flight down to Anchorage, and a cruise to vancouver. neato.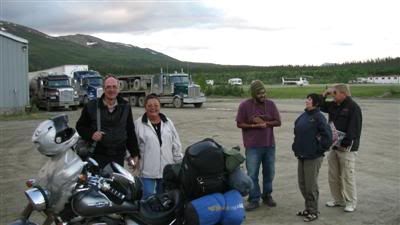 This is Frank and Selena. They were from california and decided to go north to deadhorse on a whim. Frank has a nice Toyota landcruiser, with a popout tent on top. awesome truck and i think it was made for this road. should have taken a picture of the truck.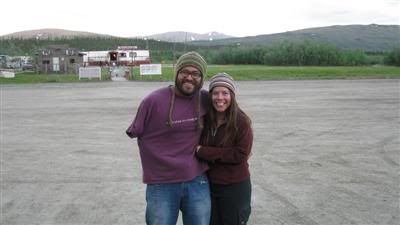 No more pictures after that, but i decided to try calling the caribou inn again. no luck. I started talking to someone about that. we chatted for a little bit and as it turned out, the best thing i've done to date.
This is when i met Steve and Levi. They're a father and son team from Oklahoma, making a grand trip, like mine, except on better bikes (1200 GS adventure)
Steve invited me to sit for coffee with them and we chatted. and chatted. I really liked these guys off the bat.
I asked where they were camping the night and said right here, as it's free. i didn't even know that. hah. the camping is free, the showers $10. go figure. I decided on doing that.
They invited me to ride with them in the morning, and i accepted. again, good decision on my part. it's rare i make those, so once i do, it's a real good one.
stayed up till 2:45am drinking coffee and chatting with Levi about almost everything. Levi is a late starter (as i) so it worked out.
at 3am, head finally hit the pillow... or the rolled up sweater is use for a pillow.