June 27
As per my usual lately, i went to bed late last night... trying to blog with shitty internet. kept coming and going and a stupid fly that kept doing flybys. how annoying.
I headed south to get to where i wanted to go.
got here first.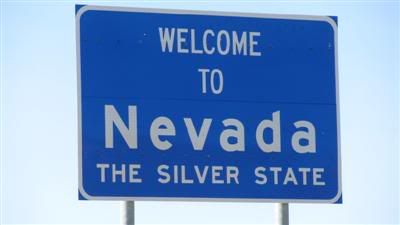 I was starving so i went to the first diner i could spot. funny. i couldn't find one restuarant. they were all casino/hotel/restaurants.
The town's name was Jackpot. Jackpot nevada. you think they have casinos? hah.
I pulled into one that looked like it had a regular diner in it. Cactus Jacks i believe. I was really hungry so i ordered the steak-o-saurus and eggs.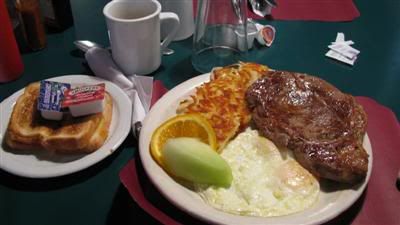 That was a rib steak. freaking huge. good food for the price. funny that i had to go through the casino to get to the diner. heh. they want your money. i resisted temptation and didn't gamble.
Off i went south. interesting landscape, and it was hotter than hell.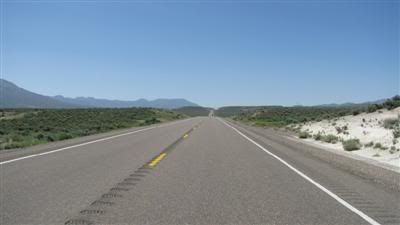 you can see on the road how hot it was.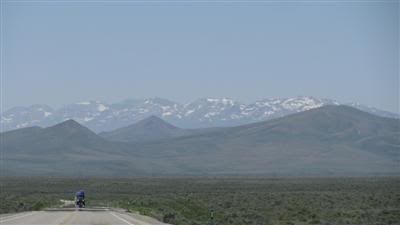 I got to Wells, and headed east towards Utah.
Utah is over there! you can see the white sand/salt flats.
This town was interesting. Wendover on the Utah side, West wendover on the Nevada side. There's a state line across the main road right in the middle of town. neato.
Couldn't get a picture, too much traffic.
Hard to imagine having all the bible thumping mormons on the east side, and all the gamblers and whores on the west. jesus. it's like berlin, but without a wall. hah.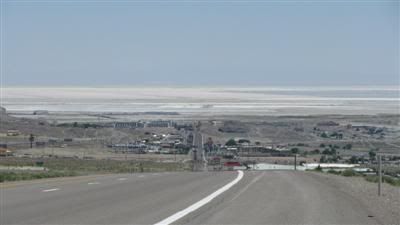 a monument of the atomic bomber at the visitor info place (closed on weekends)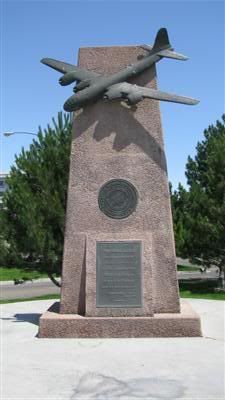 On the Utah side, i went in search of the Bonneville salt flats where they have the land speed records done. I know they have them later in the year, but it's still a Mecca for speed freaks.
This is the road that takes you there.
...and the road ends here. W00T!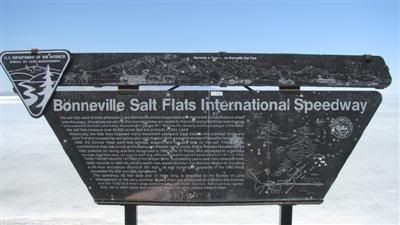 There was water still on the flats... that's why they have the races later in the year... what a wonderful site.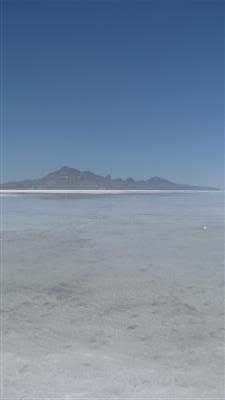 Had to get Beast in the picture. Beast won't be setting any landspeed records today. well, maybe i set a landspeed record for a fat man on a suzuki M50, heavily loaded. 96mph. hah.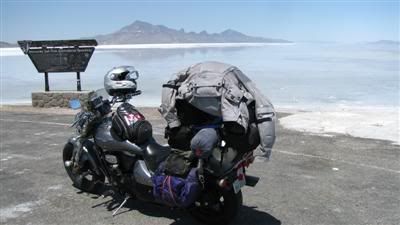 This is the gangway where the road ends and turns to salt. everyone that races goes down there. neato. Burt Munro was here. one of my heros. he followed his passion. he still holds the land speed record for an under 1000cc motorcycle. he went 183.6mph (295.5kph) on a 47 year old machine. he was 68 when he set the record in 1967. amazing.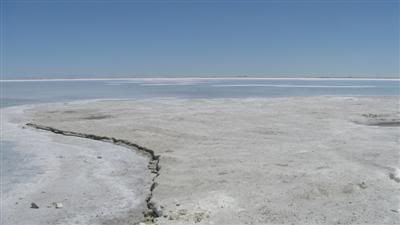 I had to stand in the water. lots of salt. hah. the water was very warm since it was so shallow and baking under the intense heat.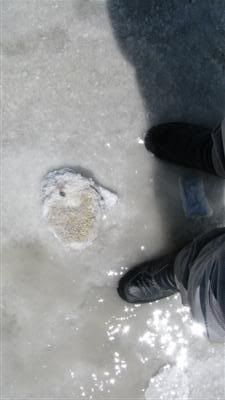 They race in that direction. there's a map on the sign. neato. i was in awe standing there.
Off i went. Heading east (that's where home is) i stopped in Salt Lake city. I rode around and spotted this Waffle and Frites place. interesting, so i had to try. I got a small Frites and a diet coke. the diet's to keep my figure. hah.
Anyhow, the Frites came in a paper cone and with a mayo of your choice. He suggested Andolous(sp?) which was a bit spicy but good.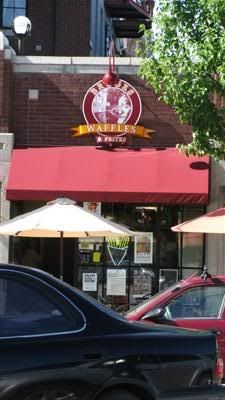 A view of salt lake from where i was standing at the time (across the street from the Frites place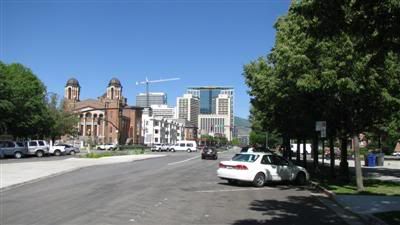 this is what is across the street from the frites place. so i ate my frites in the park. the heat was sweltering. i filled up and left town. it was funny to see all the mormons walking around in their typical outfit. nothing wrong with it, it's just so... mormon. white short sleeved shirt, dress pants, black shoes. I don't know what they thought of the tshirt i was wearing. Gifted. you know the one. it's the guy with three legs. heh.
FLY PELICAN FLY!!
heh. how ignorant am i? i didn't know there were pelicans in Utah. Well, there are. (american white pelicans)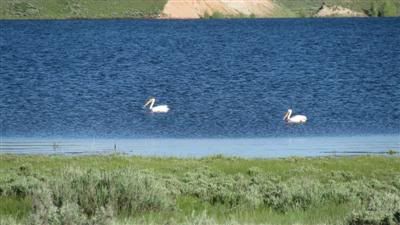 Utah is a very pretty place. it almost seem inhospitable in places, other places, very nice.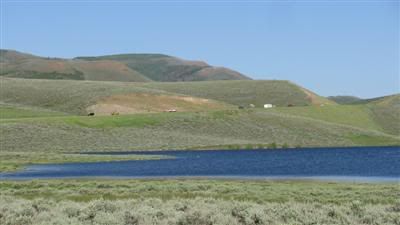 obligatory bike pic.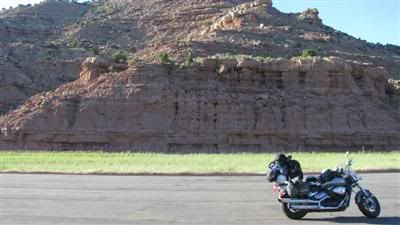 I was rushing east, and the sun was rushing west. the sun won. It got dark real quick. so quick i couldn't get to the next town i planned to stay for the night. the GPS said there were motels, so i was taking my chances at to what would be there when i got there, if it was full... etc.
So east i went and entered colorado under a veil of darkness. The first town i hit was Dinosaur. seriously, they called the town Dinosaur.
Everything looked closed. except for one gas station. I found a small motel (the other one looked not so great) and checked in.
The motel was nice actually, but very ma&pa run. the motel registration desk is in their home at a desk near the front door.
The room was very clean, and it was done nicely. I found it funny they had tupperware for the in room coffeemaker. for $50 late at night, beggars can't be choosers. it had satalite tv, a nice new bathroom and a microwave and fridge. what else do you need?
I rode back down to the gas station and got a microwaveable ravioli bowl and a rice crispies bar. dinner is served.