June 17th
I left the whitehorse dump as soon as i could.
the saving grace of the shitty motel was good hot water pressure for the shower and a fan. The fan works wonders for drying all the wet gear overnight. the hot shower helps me. hah.
apart from that, it was nasty, not as bad as the motel i stayed at in edmonton 3 years ago, but bad enough.
didn't take many pictures leaving whitehorse to watson lake, as i'd been through there before, so no need to stop for something i'd seen before.
saw these two bears munching on something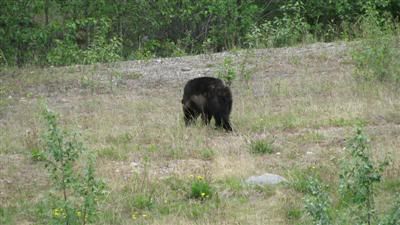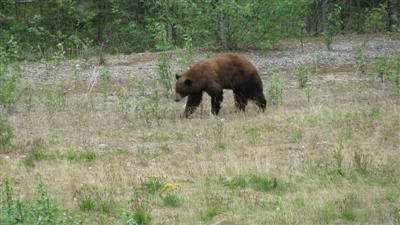 funny, just as i was taking the bear pictures, Frank and Selena (that i met in coldfoot and prudhoe bay) drove by me heading to watson lake. hah. small world. they must have taken the top of the world highway.
Right before i got to watson lake, i passed Frank and selena and waved, maybe they recognized me. hope so or else i'd look like a lunatic. heh
I stopped back into watson lake at their signpost forest, where the visitor info is. spoke to another nice lady who gave me a bunch of information i needed for the cassiar highway, namely gas stops, motel/camp info. She also said that what i saw the other day was a wolverine(not a badger i'd thought previously), as they are common around here. i'll say one thing, i wouldn't want to go toe to toe with a wolverine. they look pretty fierce.
she also told me the difference between a grizzly and a black bear. bigger shoulders and eyes more forward. hah. no matter what kind of bear, i wouldn't want to meet one alone in the woods.
anyhow, i left watson lake, and headed south. A note to everyone going down the cassiar. every store/gas station, etc, closes at 8pm. so find what you need before then, there's someone at the campsites until 10pm though.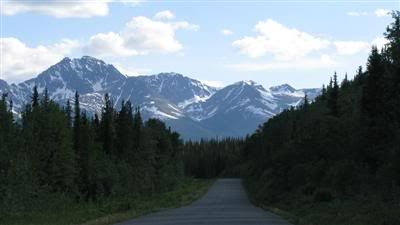 I got gas at good hope lake. the store inside was quite large, but very empty. about 20 bags of chips, and some pop. that's about it. wow. these tiny villages are falling on tough times it seems.
also to note, the road from the start of highway 37 going south was pretty rough, with a lot of frost heaves, potholes and gravel stretches. the further south you get on the 37, the better it gets.
leaving town, i saw a dog on the left side of the road, and it was coming towards me going to the center of the road, i avoided it, but it turns out it wasn't a dog, but a goat! I missed it by a few feet. there was traffic coming the other way, and they braked in time. seems they were there for a minute or so until the goat moved.
some lake along the way. the camera doesn't pick up the torquoise color of it. nice lake.
I rode down the cassiar, in search of the defunkt town of Cassiar. The town is now closed. it was for sale in 1992... guess they never found a buyer. It was getting late and i wanted to get to dease lake for the night. that's how far my tank of gas would get me anyhow.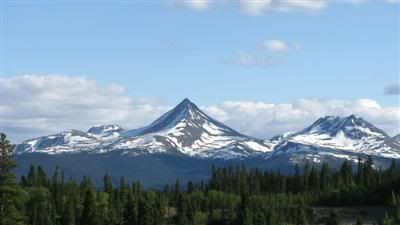 This is from the bridge going to the town of Cassiar. I never did find the town, i went as far as i wanted to go and turned around.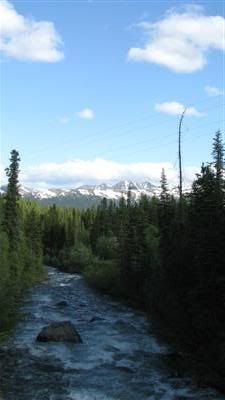 I stopped at a rest stop before hitting Dease lake. Nice quite place where all you heard is the wind in the trees and the water flowing. some small rapids on the left of the below picture. the color of the water was pretty neat.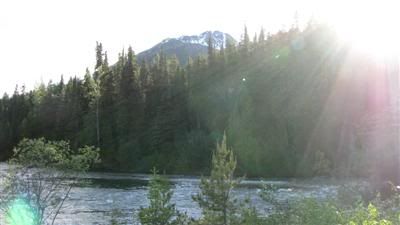 the bike looks lonely.
I liked the symmetry of the trees, the mountains and clouds. it looks better in person
last picture i took before dease lake.
right before getting into dease lake (about 5km) a moose darted across the road. liberal use of the word darted, as it wasn't too quick, but as soon as it heard/saw the bike, it got into the woods and didn't stop moving.
I got to dease lake at about 8:30. gas/general store was closed. not much else in town, so i headed to the motel across the street. good clean room, Wifi (although slow) and satalite TV. better than whitehorse for the same price. oh ya, it had a fan too!
I asked the motel guy if there was a place i could get food in town. he said everything is closed as of 8pm, but there was a store across the street that i could get icecream, chips or chocolate bar. so off i went across the street.
it was some kind of ooddball store. a little bit of everything. only edibles were chips, chocolate bars and icecream. So a can of pringles and a super fudge was to be my supper, and a root beer.
good thing i packed some food, so i had a small can of fruit, so that was dessert. blogged a bit for the night and hit the sack. boy was i tired.