June 21
it rained all night, and everything is humid, but it doesn't seem like anything is really wet. it wasn't raining when i was packing up, and if it was, it was a very light rain.
while packing up, i spotted this guy inside my backpack. seems he doesn't like the rain.
I didn't offer him a ride, since i'm not fond of things that can bite me. I don't know if this guy can, but i didn't want to take a chance. He was about an inch in lenght.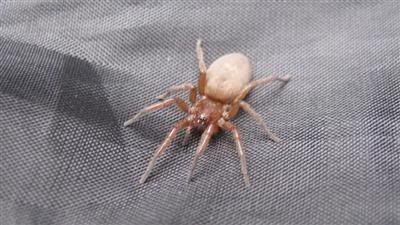 only about 30km down the road i spotted a restaurant that was packed. i was starving for some reason so i went in. the waitress said that they were really packed today because another restaurant in town had a problem, either it burned down, or had some sort of fire.
So i ate at Clancy's, down the road from Lac La Hache provincial park where i stayed the night before. good breakfast.
These were offically dedicated to Rick Hansen, april 7, 1987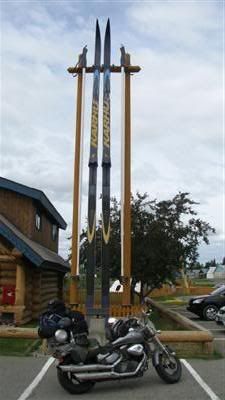 I rode on until i needed gas. i also needed fuel for the bike. I noticed that i only get tired on the bike if i don't eat much during the day. one of these helped with keeping me awake and it tasted pretty good too.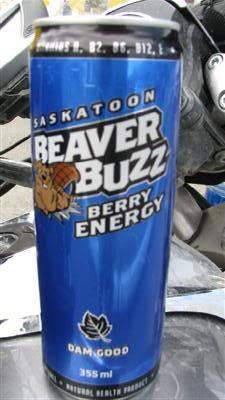 you can't get a sense of the country side with these two pictures, but anywhere there's a bit of flat land, there's a horse. it's cowboy country out here in cache creek. barren rolling hills and ranches. If i didn't know any better i would have thought i was in one of those cowboy states in the US.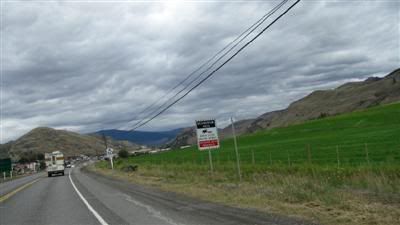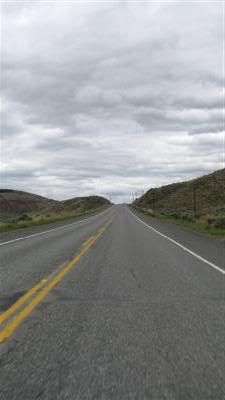 from cache creek on i followed the Fraser river, which is essentially a canyon with the river below. it's a great ride and i would have liked to pull over for pictures, but the on/off rain coupled with heavy traffic both ways made it nearly impossible.
then it started raining harder. and harder. and i had to pee real bad.
I went to the visitor infomation center in Lytton but it was closed. crap. i looked around town and found a nice little cafe. i needed to warm up some anyhow. I got a coffee and decided to get a soup and sandwich at the same time. here's a pic from inside the cafe.
Those are some low clouds in the background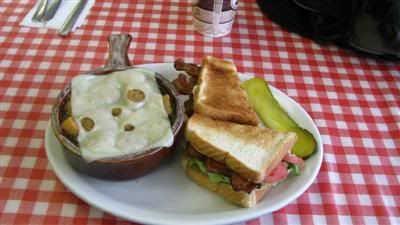 looking down the street from outside the cafe. Again, many low clouds. nice little town, but didn't stay long. i wanted to get south and hopefully out of the rain.
unsure of my facial expression there. odd. i look more crazed than anything. maybe this rain was driving me crazy.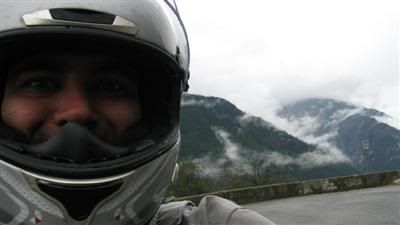 The fraser river down below with train tracks either side of the river, and the road on the left of the river, above the tracks. at one point, both trains were going opposite directions and it was quite mesmerizing.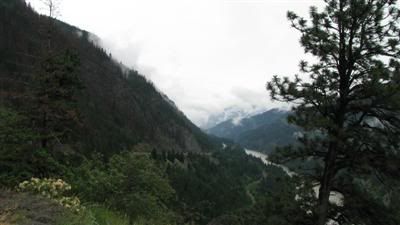 It rained pretty hard and traffic was pretty heavy until i got to bridal veil falls. i got my boonie hat on and went for a walk. again it was uphill and i got winded. sitting on a motorcycle for almost a month means very little excercise... not that i get any when i'm at home though.
here are the falls. this was pretty much as close as you could get as it was barricaded off. i could have hopped it and gotten closer, but i'm lazy and it was wet and muddy and seemed like it would be a bit dangerous to keep going. maybe there's a reason for the barricade after all.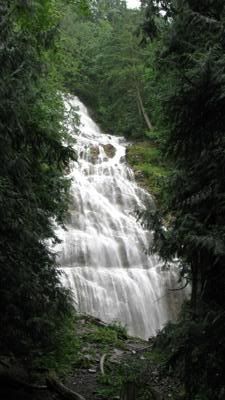 walking through it felt like jurrasic park. The trees were quite large (not huge) but some were about 5 to 6 feet across. There were a ton of ferns and other vegetation like hanging moss from the trees that it felt like some kind of jurrasic jungle.
it didn't help that there were signs posted everywhere saying "there are bears here"
actually, i was just walking down the hill back to the bike and found the picture a bit funny. heh.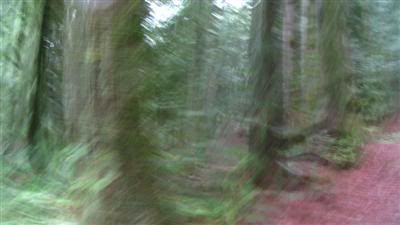 I got back on the bike and this is when beast showed it was wounded. btw, i call my bike beast.
Running down the trans-canada by chilliwack (she's gone gone gone) the Red light in the Speedo came on, and the little symbol for high temperature came on. oh shit.
I took an exit, and as i slowed down, the light came off. i still pulled into a gas station to check. looked ok at first.
I took off and as soon as i got back on the highway, the light came back on. I pulled into langley township and had a coffee and looked as what was going on. uh oh. a little green puddle was forming under the bike. shit. looks like i pierced the rad. I looked through the yellow pages and found a few motorcycle shops in that direction.
When i got there, the shop had moved. hah.
I finally rode to near the new location of the shop and looked into getting a motel near it. I checked into the sandman hotel and hit the internet and yellowpages for suzuki dealers and motorcycle shops in the vancouver area. luckily, vancouver is huge and there are quite a few shops in the neighbouring towns and cities.
only one problem, all the shops i called are closed on sundays and mondays. argh. summer hours my ass.
I know you can use some black pepper to plug up the holes temporarily, and use some radiator fix it solution, but both of those are temporary fixes and both need me to take the gas tank off to get to the radiator filler. argh. i really wish i could do my own mechanic work. i could probably get a rad in today or tomorrow and do it on the side of the road really, but something else is nagging me.
between the two jugs (which makes the V) i have an oil leak. it might me something minor, but i read over the manual and i asked myself... what if the water pump is fried? that would be bad.
i called over 11 places. all are either open tuesday to saturday, or they aren't answering. it's a busy time of year for bikes too. so i'll have to see how things go.
i didn't eat supper last night (stress) so i guess tomorrow (june 22) my errands will be, laundry, eat a ton of food, see about getting replacement and spares for my lights (piaa) and get a lot of good sleep.