I was up so late last night that i started out the day later than i thought i would. oh well, no big deal, it's not like i have any plans made, so i'm free to do anything. the bike was running rough the night before and knew i was low on oil, but didn't know exactly how low. I used up the whole liter of oil and it's back to the proper level. not sure why the bike burned all that oil, but i know it's not leaking.
I wanted to go to Rouleau, SK and take some pictures since that's where
Corner Gas
was filmed. the GPS took me on highway 714 which is a 20 km stretch of very loose gravel road. that was scary... almost dumped the bike a few times in the first kilometer of riding it. i was going about 40k/h and i was all over the placed and the pucker factor was pretty high. well, i did what the only logical thing was to do. i sped up to about 80 and it was smooth sailing. reminds me of the motorcycle saying ' When in doubt, throttle out... it may not work but it'll end the suspense sooner'. heh.

I got to Rouleau (AKA Dog River) and took some pics. The howler, the hotel, the grain elevator and sadly... no corner gas. It seems they took all the neat stuff off the building.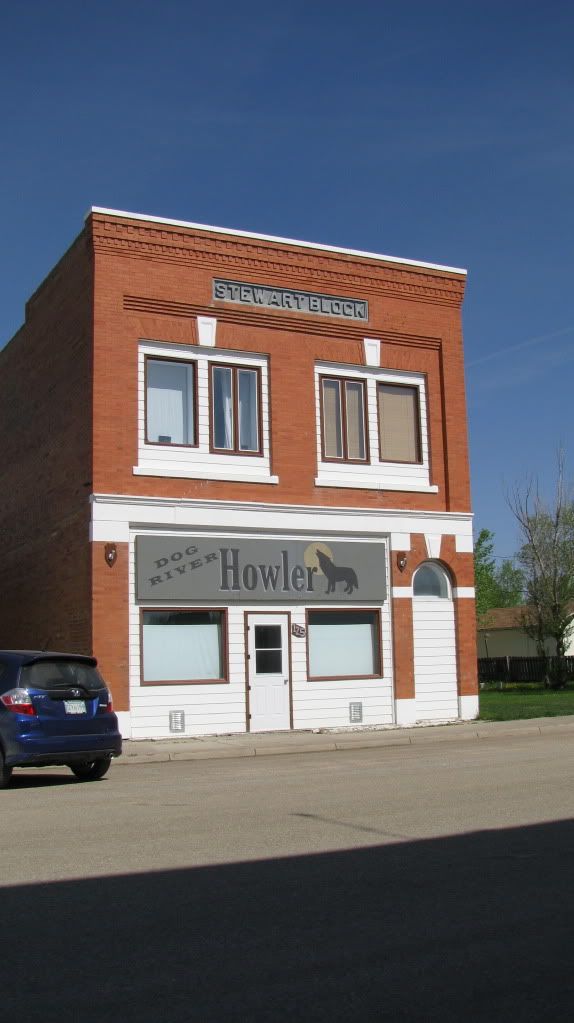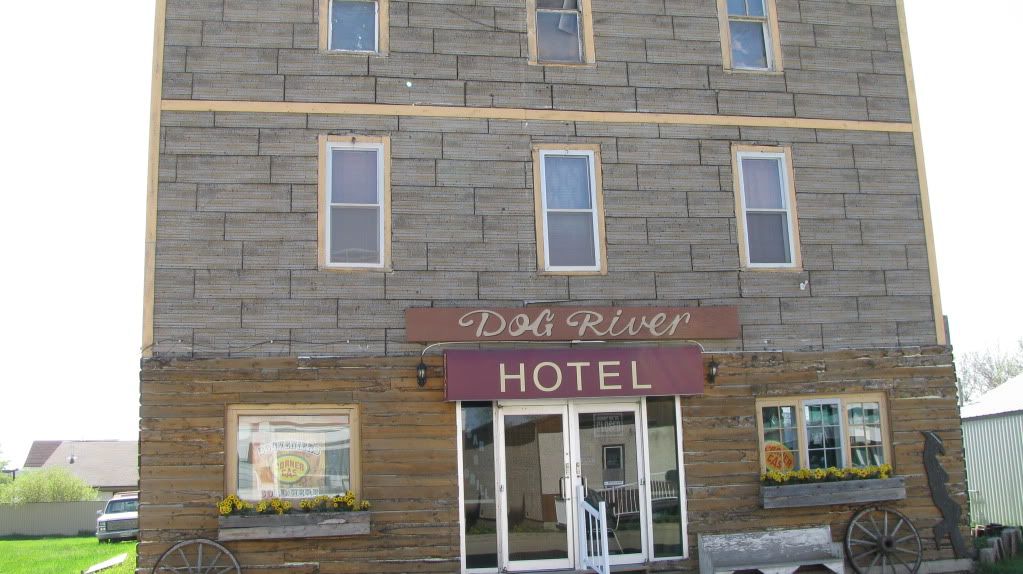 corner gas. too bad i didn't get to see it like it was on tv.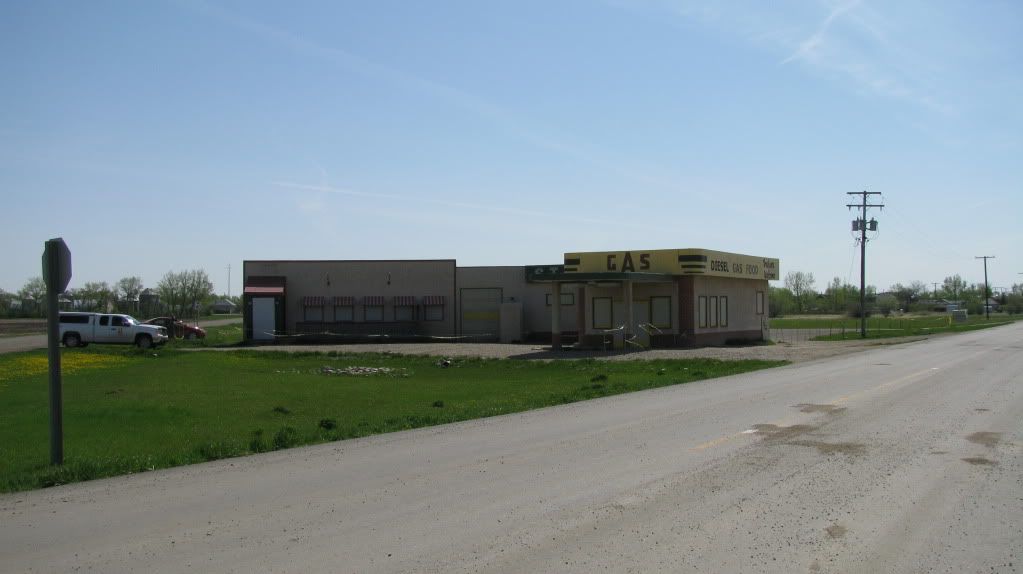 i headed north and fought head winds and crosswinds the whole time. nasty business that.
I stopped at an esso that had a big restaurant sign. no restaurant anymore since it's converted to a shop and uhaul rental place. The gas station guy was helpful and told me of a restaurant nearby. I told him the winds were killing me... his useful suggestion was "get out now, fast"
seems these were just the morning winds and the winds pick up during the day. he showed me a route to take to get to saskatoon and onto the yellowhead trail. Thanks Esso Dude! (right before moosejaw)
speaking of moosejaw... more like moose ass. couldn't really stop on the side of the highway just to take a picture of the moose.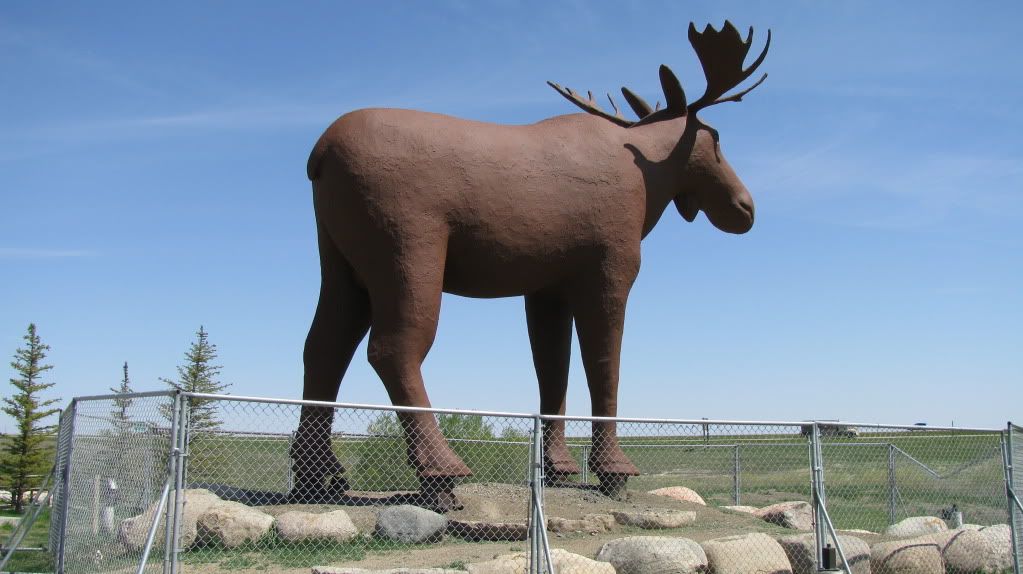 get out fast. not exactly saskatchewan tourism at it's best, but if you're passing through, it's words to live by. those winds were very nasty. winds are usually bad on big trucks, but people all over were complaining about cars and trucks being blown all over the roads. imagine being on a motorcycle that acts like a giant sail. a few times, i thought the bike would take to the air. scary stuff. as the day wore on, the winds got worse.
on the way to sasktatoon, was pleasently surprised to find this in the land of flatness.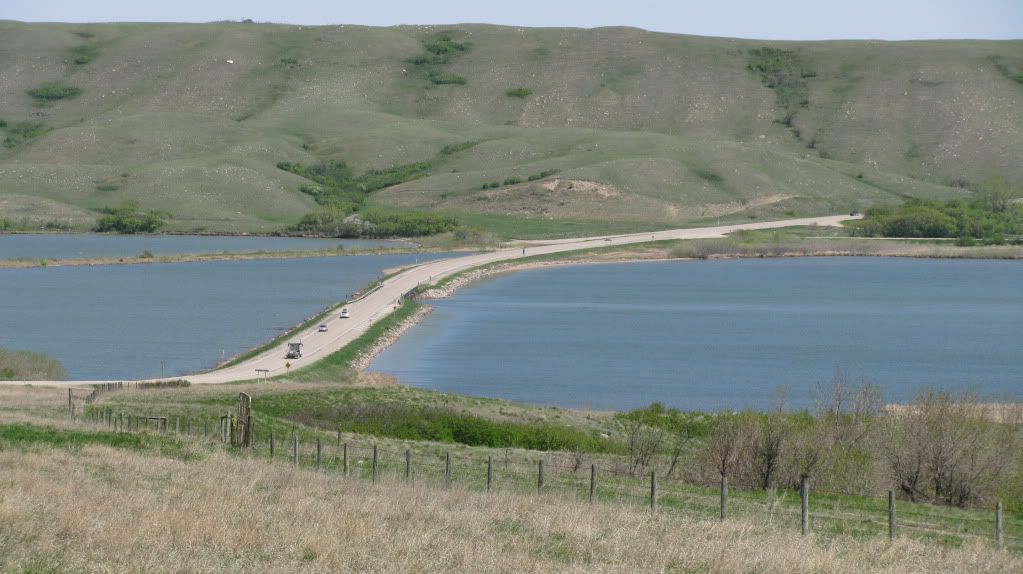 i took a short video to show you how windy it was... it was constant wind that gusted often. the video doesn't show the gusts.
made my way through saskatoon and kept going. i just wanted to get out.
action shot on the way to North Battleford. not much action... well, that's saskatchewan for you.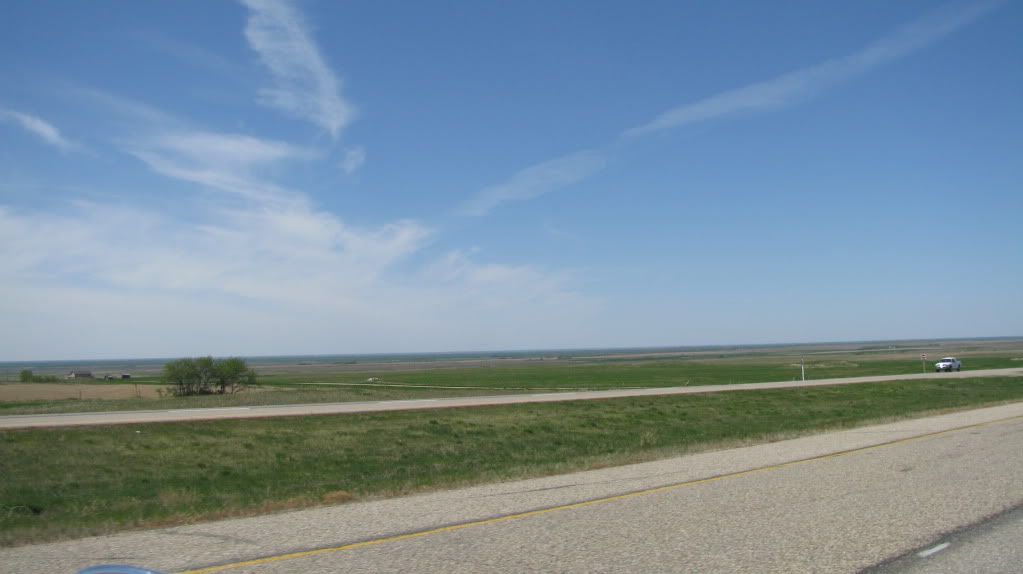 North Battleford. i like roadside attractions like the giant RCMP officer. least this one can't give me a speeding ticket.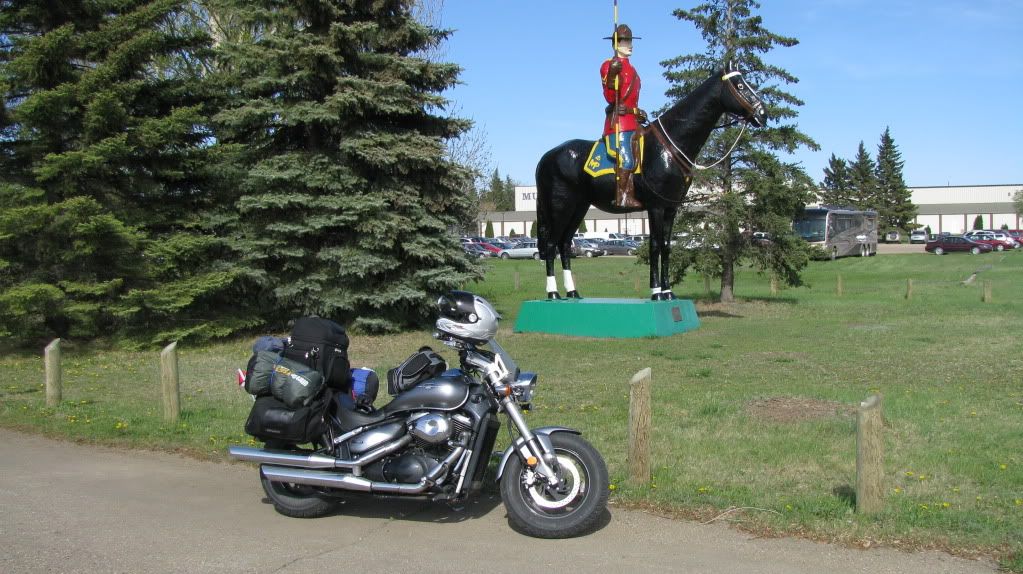 The Battleford Buffalo. It's made out of barbed wire. neato.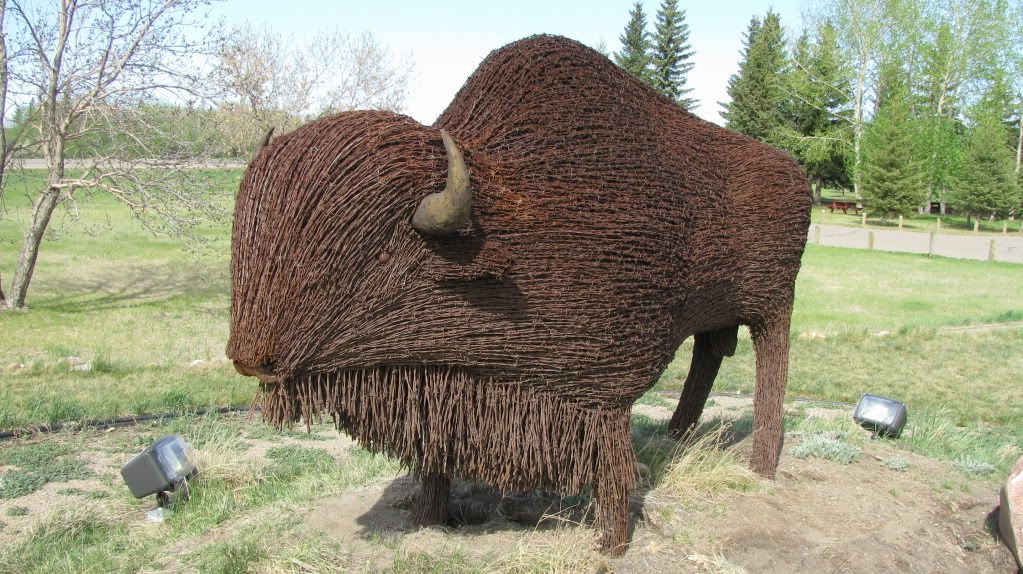 This sundial next to the buffalo. I took the picture at 4:45. pretty accurate better than my cell phone, gps and clock on the bike combined. (all three have different times now)
Elevators. life on the prairies...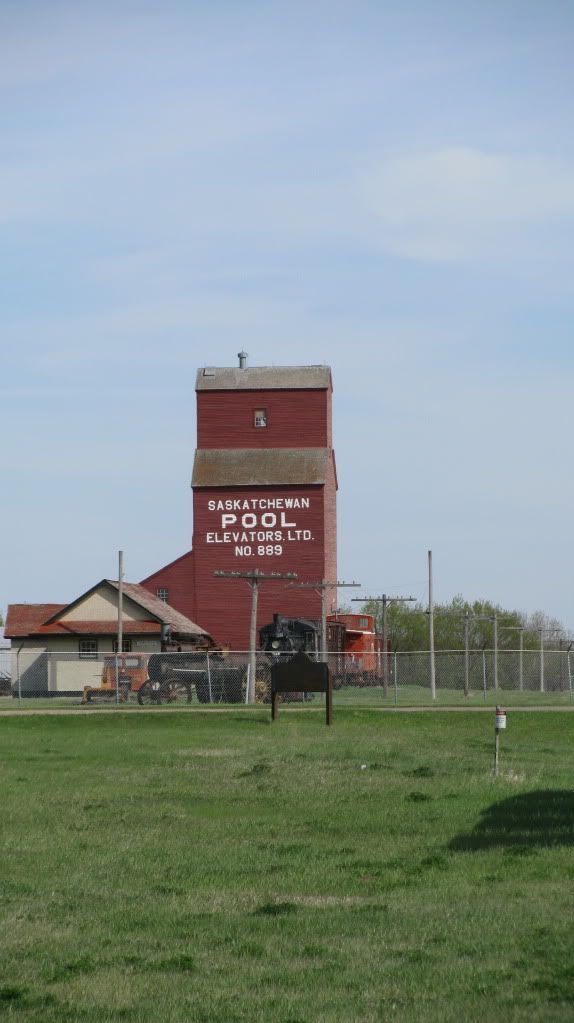 Meet Walton and Linda.
It's people like this that restore my faith in humanity. We had a great chat about riding and life in general. By the time we went our separate ways, the weather had greatly improved. Nice sunny day with no wind. they were my lucky charm i think. Walton's got a sweet fat bob (and Linda's sweet firebird in the background). Gotta love that bike. Looks nice, sounds nice. I want. Walton was interested in my trip and wanted to find out how it ended so we swapped info, my blog for his business card. Walton, if you're reading, send me your email address!
I rode out of town and headed west (always west) and the ride was great. No head or cross winds, sun was shining but not in my eyes and the landscape is starting to change as i go further west.
I stopped over in Lloydminster. Got a room with everything i needed. A door on the main floor so it's easy to get stuff on and off the bike and free WiFi. bonus.
Half of it is in Alberta and the other Half is in Saskatchewan. I remember thinking that was odd when i came through here as a kid. well, here's a picture of the alberta/saskatchewan border
These are the world's largest border markers.
Lloydminster
is Canada's only border city. go read about what the town, it's quite interesting. i actually got all 4 markers in the shot. neato.
yes, i ate at arby's and now i remember why i don't go there often. heh.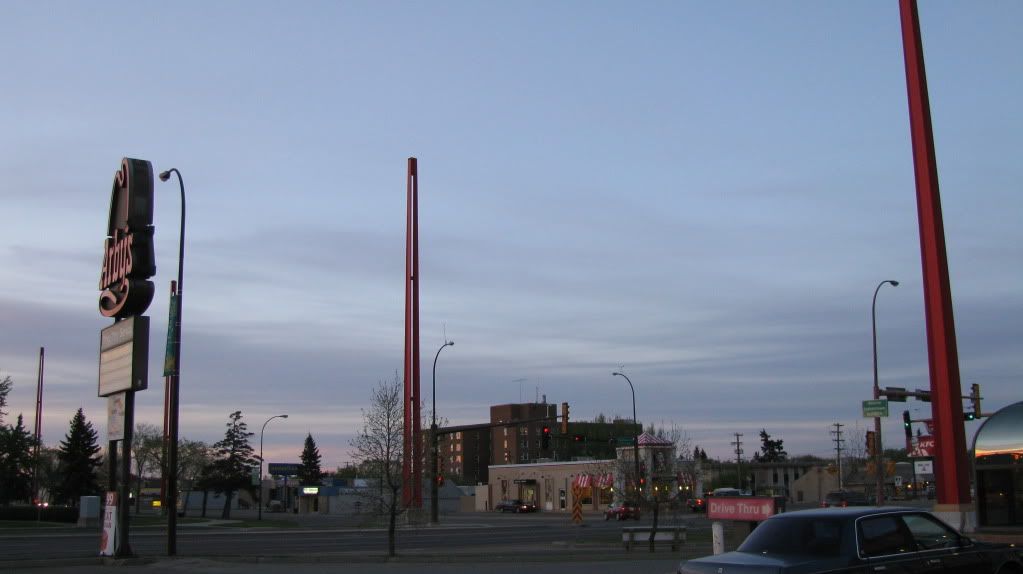 Here's the zoomed in shot of the little green sign above (near the rightmost marker
odo reading 3511
forgot to add what it was yesterday. It was 2900 (about) so i did about 600kms today. Not bad considering all the winds and the late start of the day.
right now i'm not one my 'trip'. I'm just travelling through to get to my starting point, which i've decided is going to be Dawson Creek. then i'll slow down and relax and enjoy my trip. anything i miss on the way out west i'll be able to hit on the way back. except those winds... I hope they aren't there when i get back. I also heard when i'll be coming back it'll be bug season. oh joy.

sunset. time for bed.