I left Grand Prarie hoping for low winds and good weather. That didn't work. I should have strapped a rubber chicken to the side of my bike for good luck. Overcast and a light drizzle, i was on my way to leave town and saw this. A gigantic sundial. I love big things.


I rode in the windy, cold (8C) and wet morning to something else that brightend my day. A giant beaver!! this is in beaver lodge in case anyone is wondering.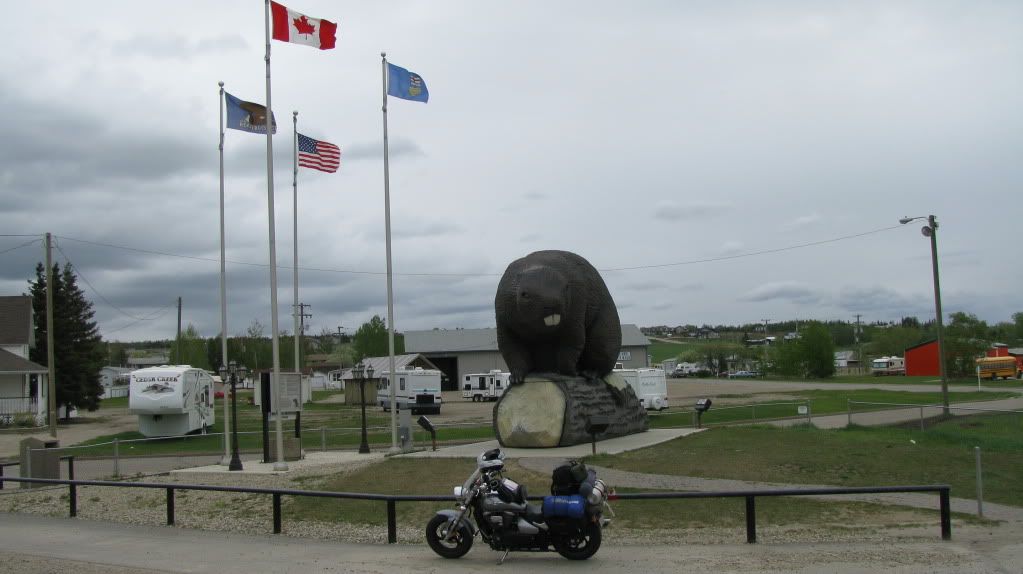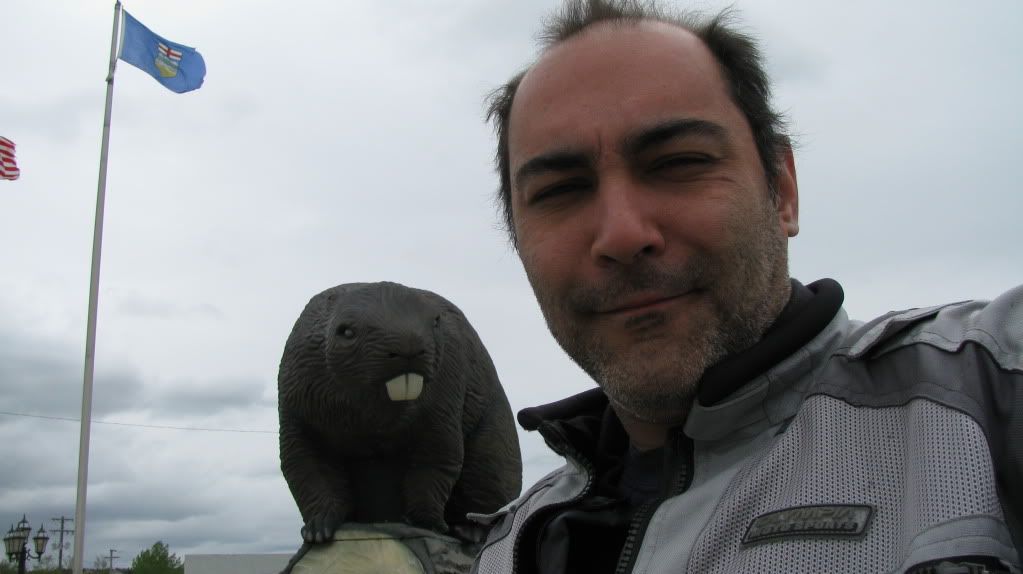 (hair by HELMET)
I crossed into the BC border and got right to the Mile 0 monument of the Alaska Highway. I went to the info building and asked for campground info. I had some but wanted more. They gave me some great info, maps and all the gas stations en route. that's great info to have.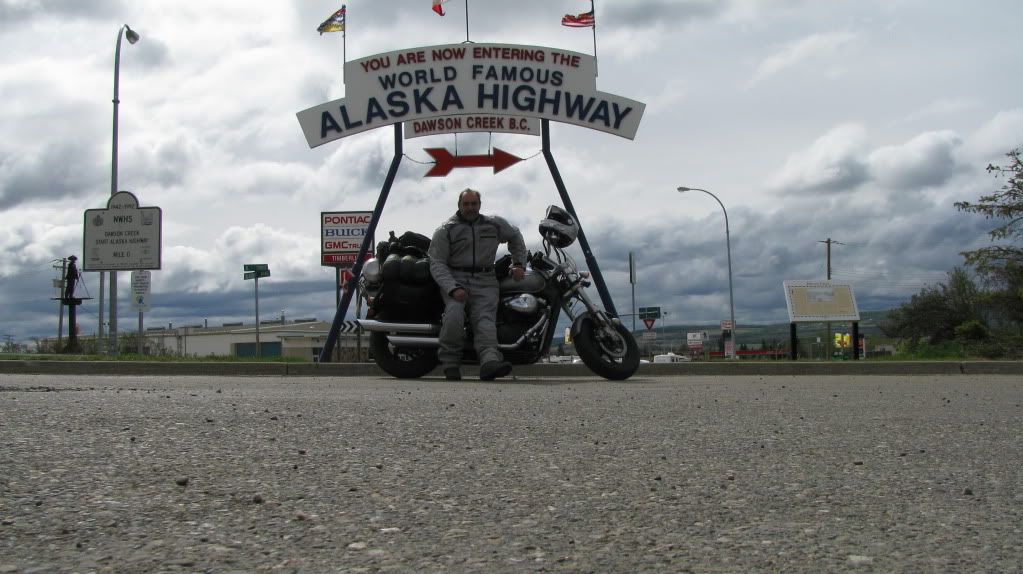 I took a picture by the historic Mile 0 marker. I wanted it with the bike, but it's in the middle of the street and i didn't have the balls to park it there, run to put my camera on a timer and run back. this will have to do.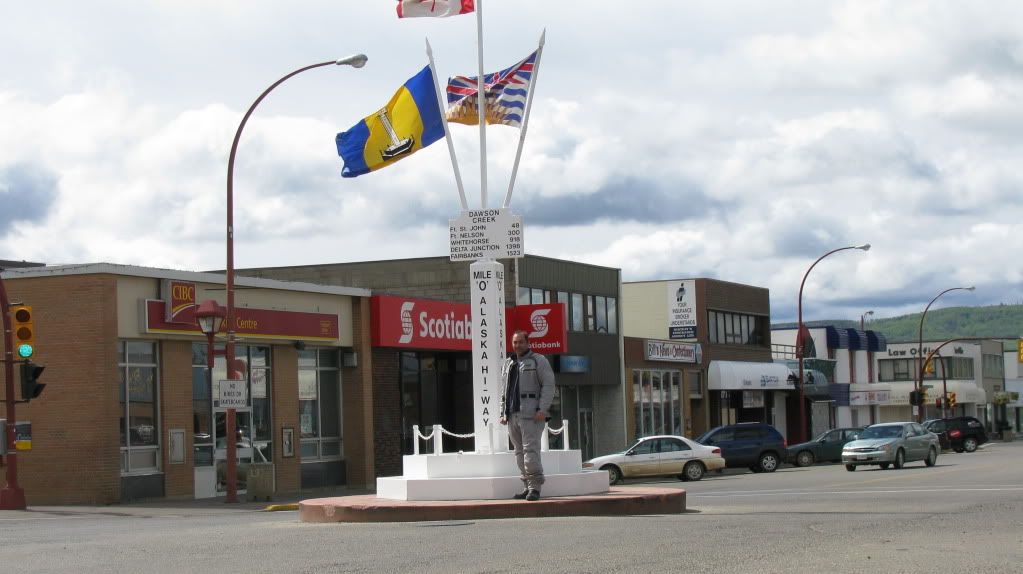 Went into white spot since i was starving. had awesome dry ribs, and a so-so steak sandwich.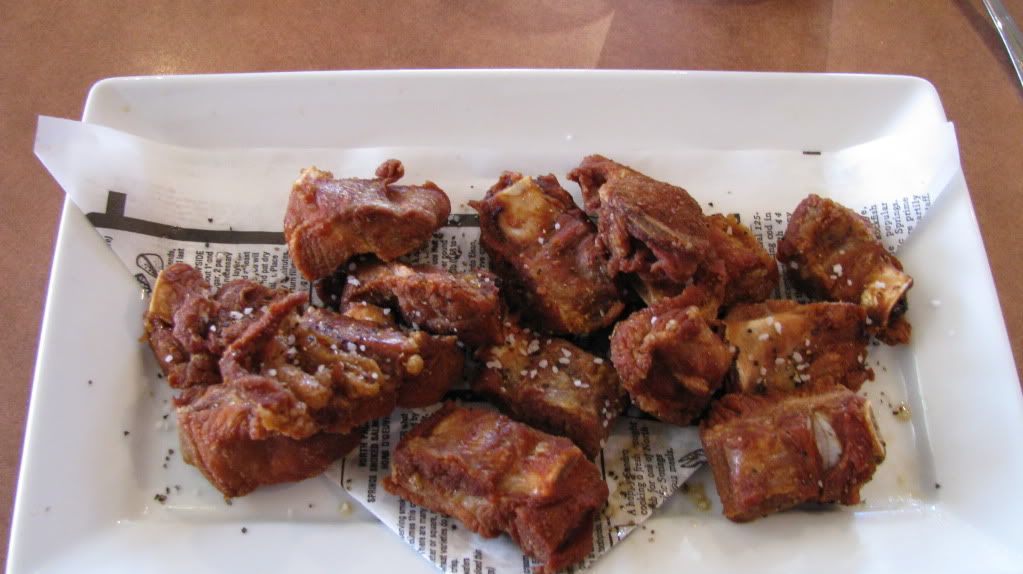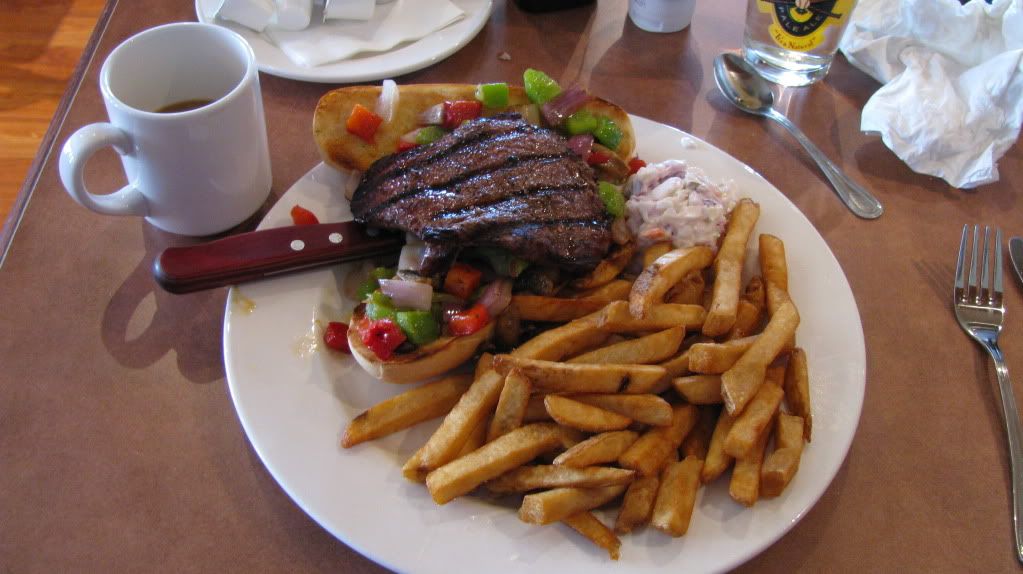 Just as i was passing through Taylor, a dog saw me coming from far away and was on an intercept course. that's not good. I slowed down until he was near me and i gunned it. If he was coming any closer i would have kicked him in the head. It may be mean to you, but i don't want to lose control of the bike and kill myself over a stupid dog. (and stupid owner) TIE UP YOUR DOGS.
Since i knew i would be camping, i stopped at Ft. St john for my usual coffee, and would do groceries there. while leaving the Tims, i tried to back up but an SUV stopped behind me. it was far enough away so i backed up as much as i could and turn right and away from there.
too late. the dumb bitch to my right started to back up. so i stopped ( my wheel was about 6 inches from her bumper) and luckily she stopped too. I didn't have much room so i started to go again and AGAIN she starts to back up. If i hadn't moved my front wheel, my momentum would have caused my PIAA light to get knocked off my her bumper. The problem is, since i did move and going so slowly i was totally off balance and the bike tipped over. It was too heavy to keep upright so i let it go.
I tried to lift it but it was too heavy, thankfully some dude helped me lifting it up and moving it to behind the next parking spot which was empty. few girls walked by and asked if i was ok. It looks as if they thought the dumb bitch hit me.
thankfully, the highway pegs and my saddlebags took the fall. the highway bar was bent a bit and no damage to the saddlebags. no big deal.
all this time the bitch didn't move(in her rusted out blue bronco II). still in reverse with her foot on the brake. I left and went to do some groceries. all i have to say is Karma's a bitch.
picture porn along the Alaska Highway: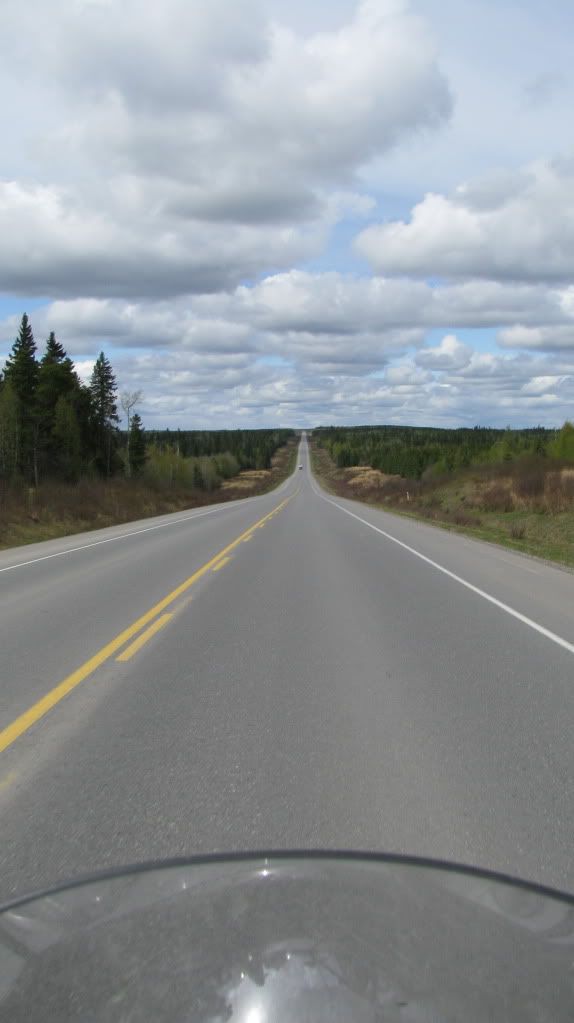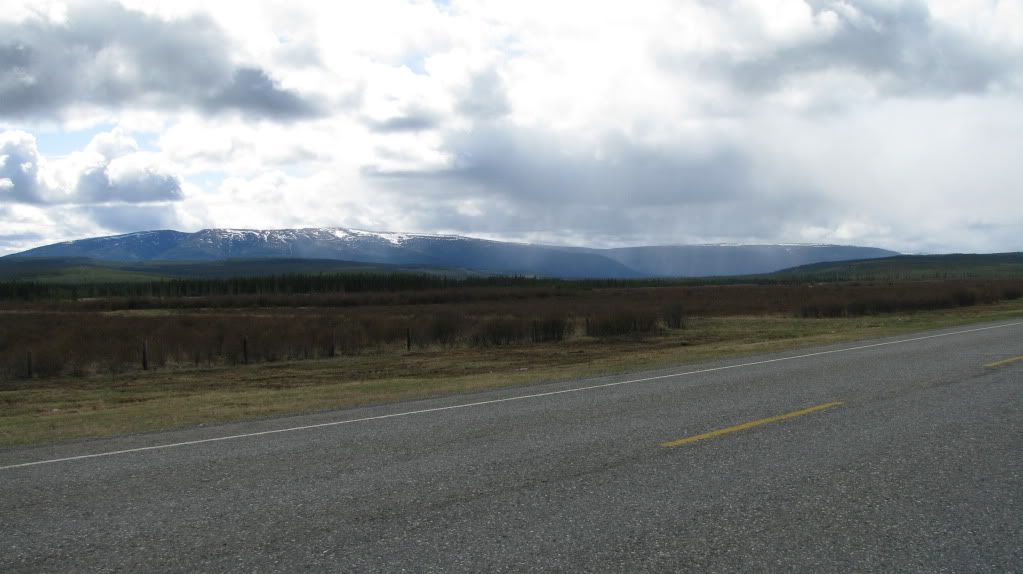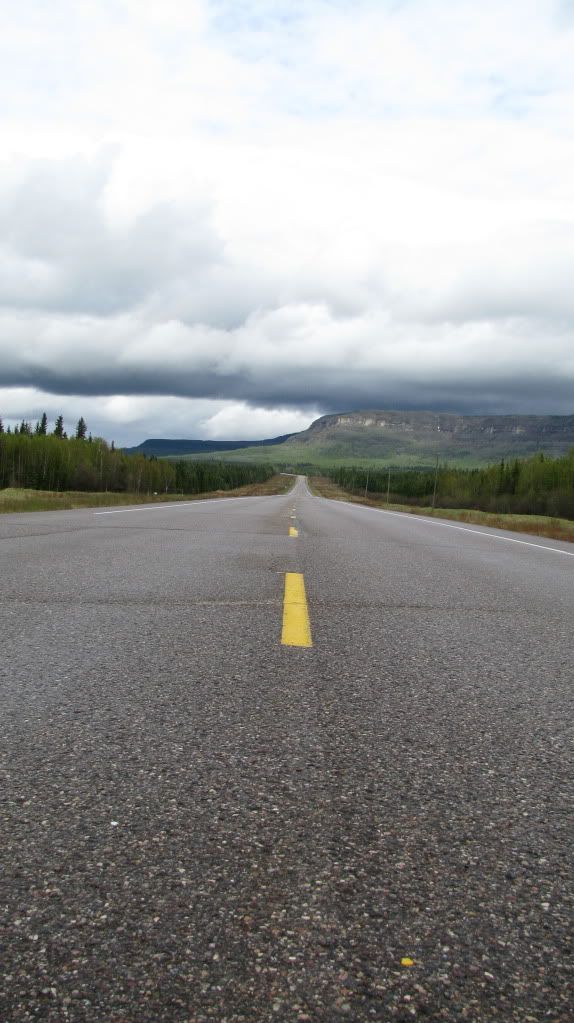 I got to Fort Nelson and decided to not stay there, as per Greg and many other's suggestions.I decided to go all the way to Liard hot springs where i could sooth my sore bones in a hot pool. that didn't happen (more on that later)
right before and right after riding through fort nelson, i saw black bears... yup, this is bear country.
I left Fort Nelson and thought that Alaska highway was a bit boring... until now. This is where i finally got to see some mountains, and see the grand expanse for what it is.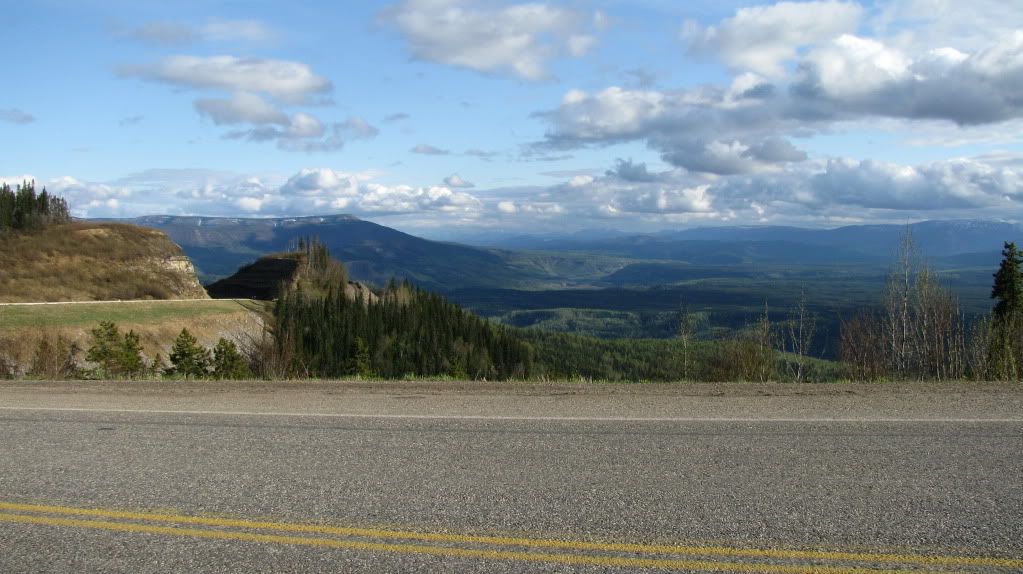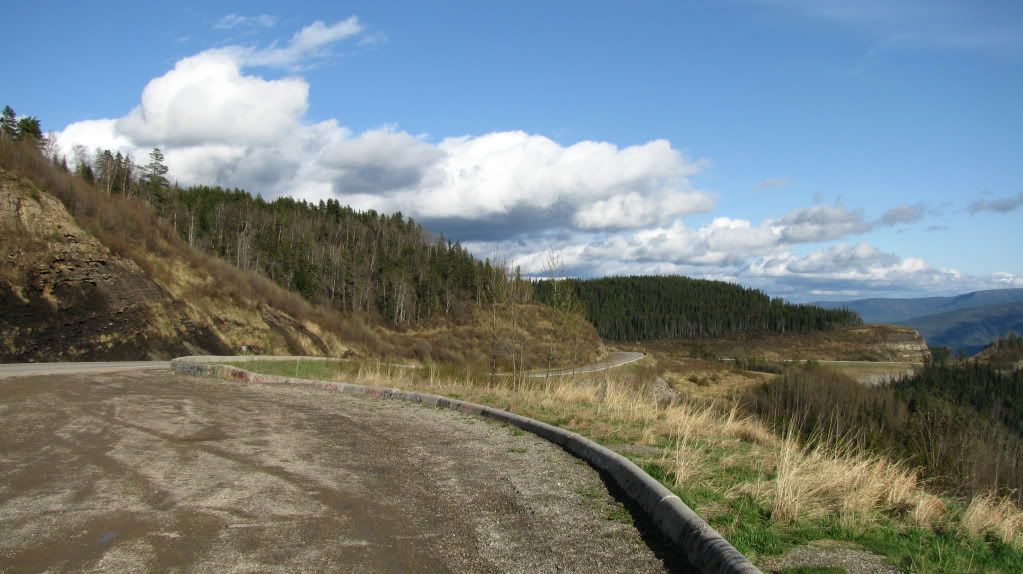 stunning. I didn't want to go too fast due to fuel usage, but then i realized that if i didn't get my ass in gear, i'd be late!

Campgrounds are usually only open until 10pm and i was running late.
There's no ocean, but this stretch of the road puts the famous Cabot Trail to shame. I realized that there's a gas station in between where i was and Liard, so i hit the throttle. hard. I was still being 'safe'... but that's relative when it comes to motorcycles.

I did miss a lot of beautiful scenery by going so fast, but since i'm on a motorcycle, it's not like i can rubberneck at everything.

I did stop a few times to take some pictures. At one point, the highway is under contstruction and with the constant showers i had during the day and with no gravel, it was just a huge mud pit. Not really mud though, more like really wet clay. Not fun, but made it through there.

I was zooming along and was passing a creek, but out of the corner of my eye i thought i saw all white instead of moving water. I discounted it until i saw more of this type of phenomenon. it was SNOW. no wonder i was so damn cold (tshirt, long sleeved shirt, jacket and liner) I could have put more clothes on, but i didn't. stubborn i guess.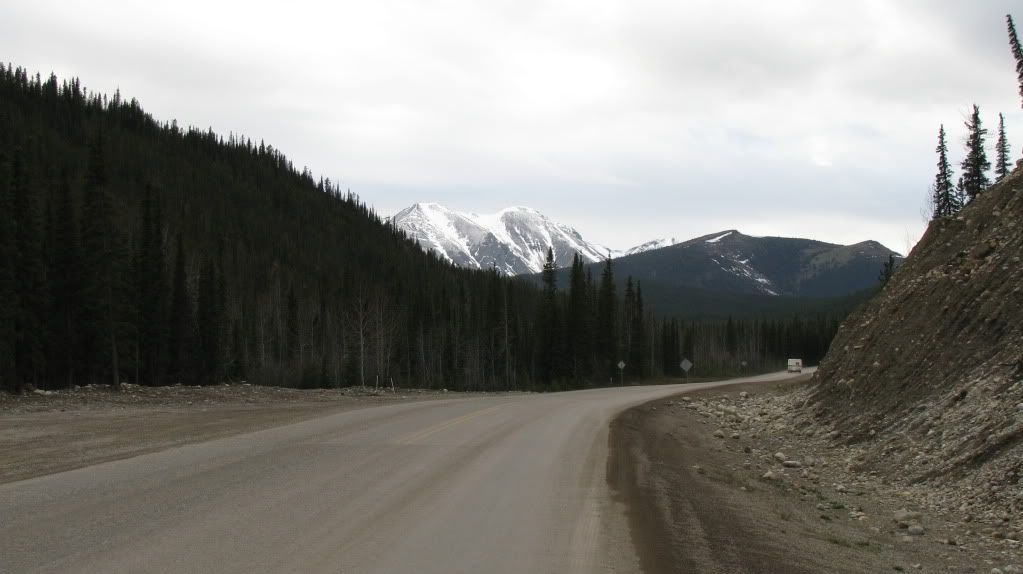 As i continued i saw snow on the side of the road, but further up until i got to one place where the snow was very close. so close i made a snowball and threw it. i hate winter.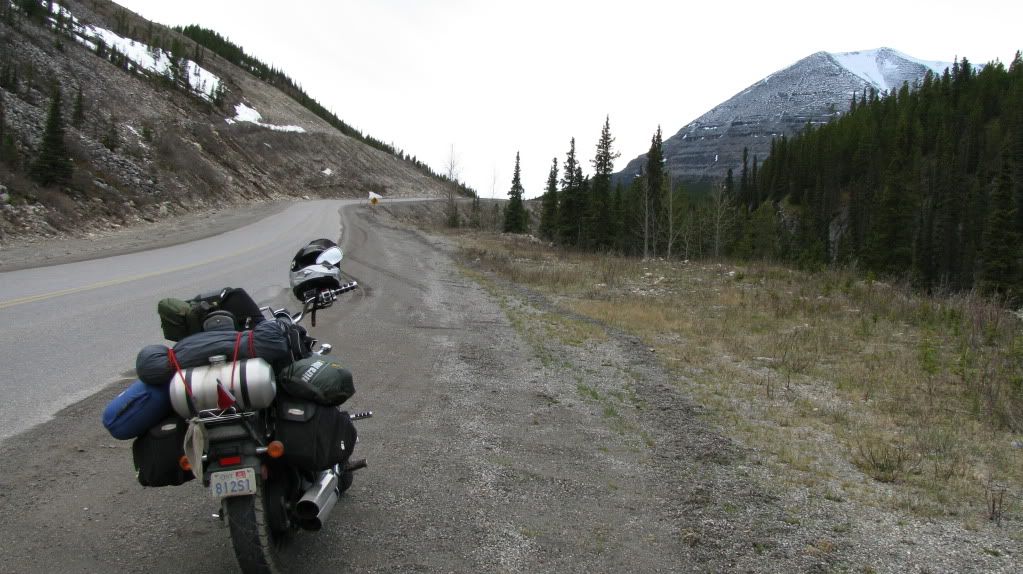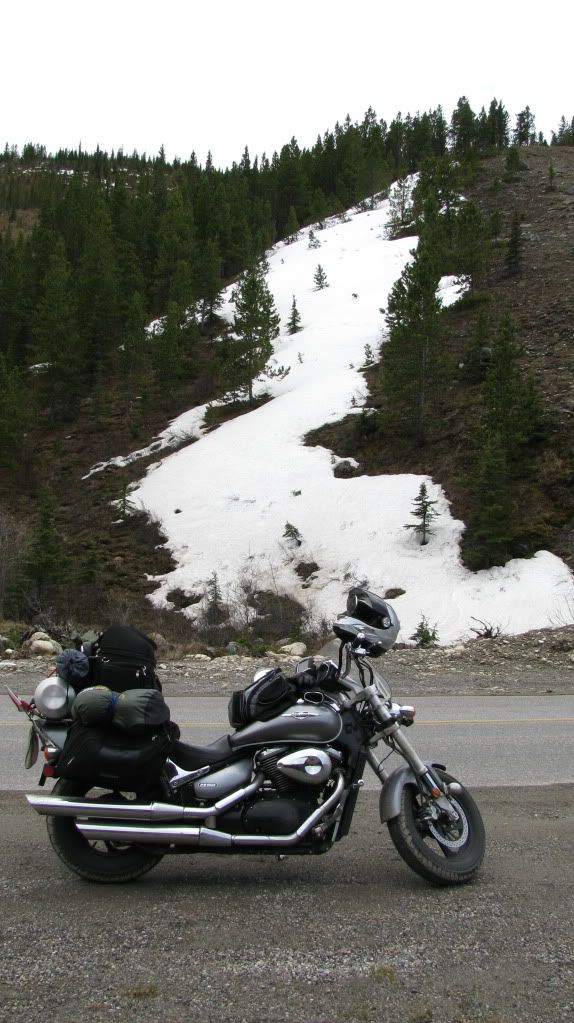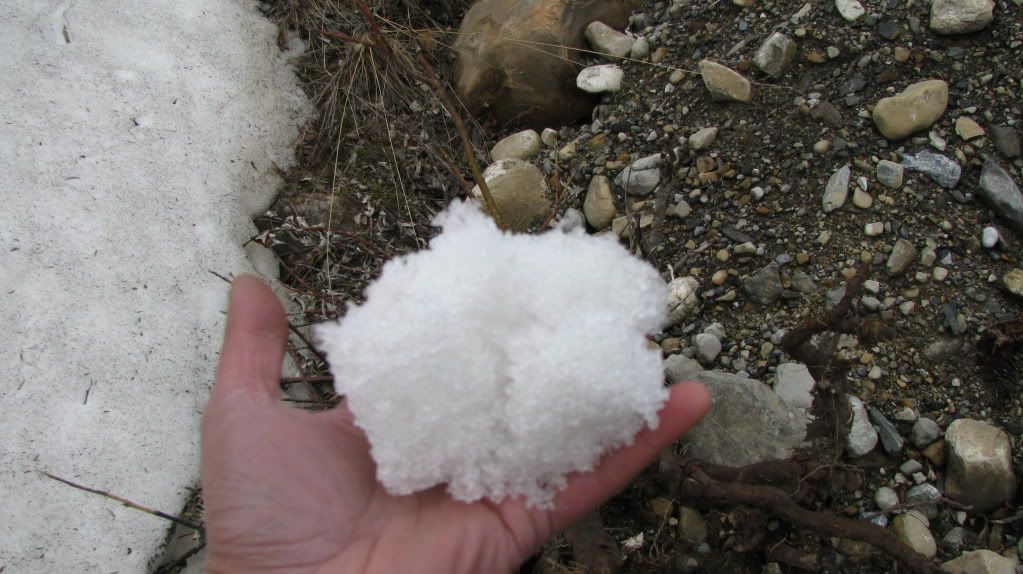 I kept going and saw a moose on the side of the road, and a few minutes later i saw a caribou on the side. this reminded me to take it a little easy because of all the wildlife.
I continued on at a fair pace, and took a picture of Muncho lake. some parts are still frozen over.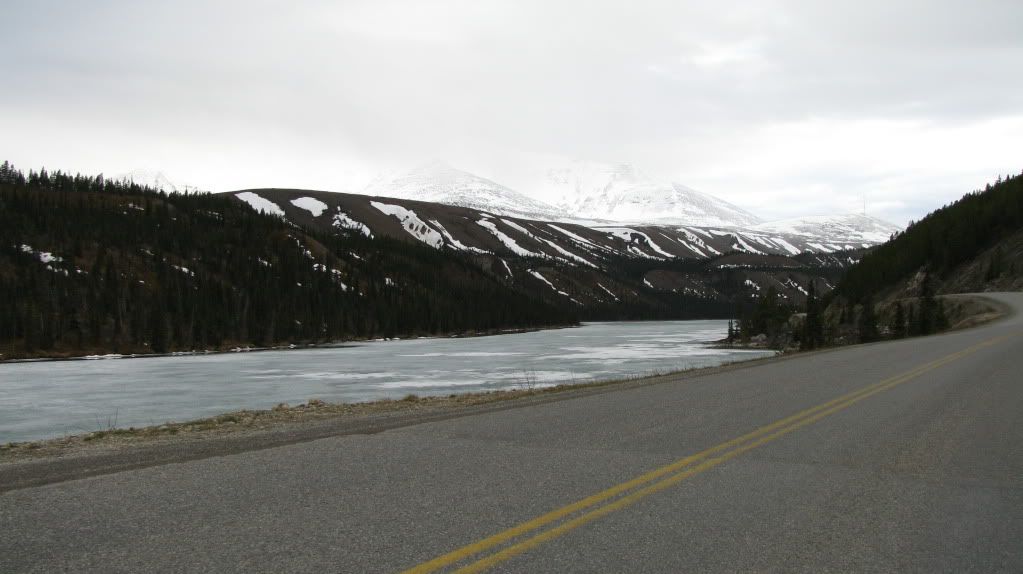 I continued around muncho and stopped to take more pictures. Behind me was a great view so i backed the bike up and lost my footing. blammo, bike goes down, but this time on the left side.
I couldn't lift is so i had to take everything off the bike and lifted it. I couldn't see any damage.
now i was going to be late to get to Liard. at least i got this shot.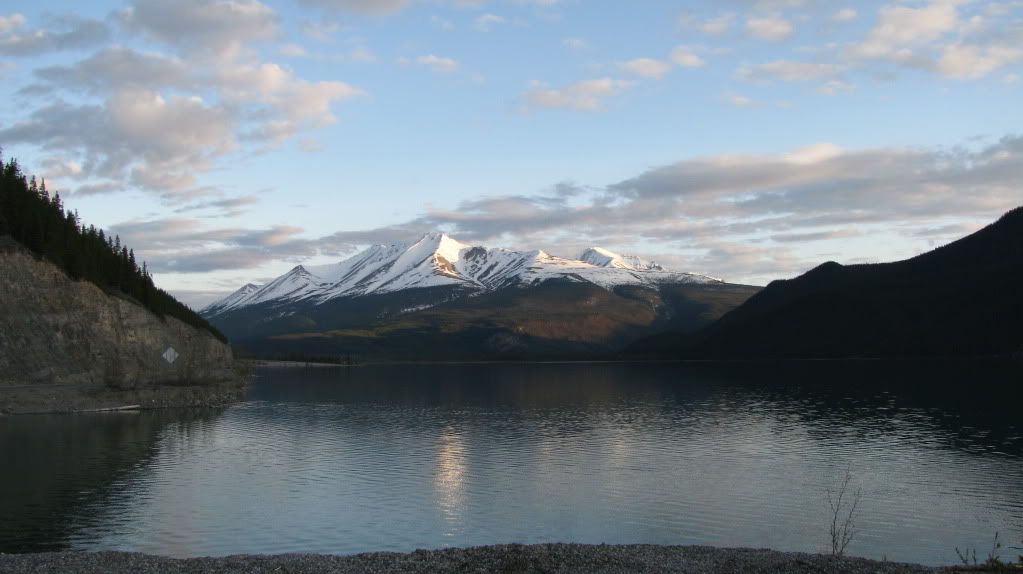 I really hit the throttle hard now and as i was getting close to Liard hot springs, there were a few bison on the side of the road. then a few hundred feet from Liard, another bison. this is really bison country here...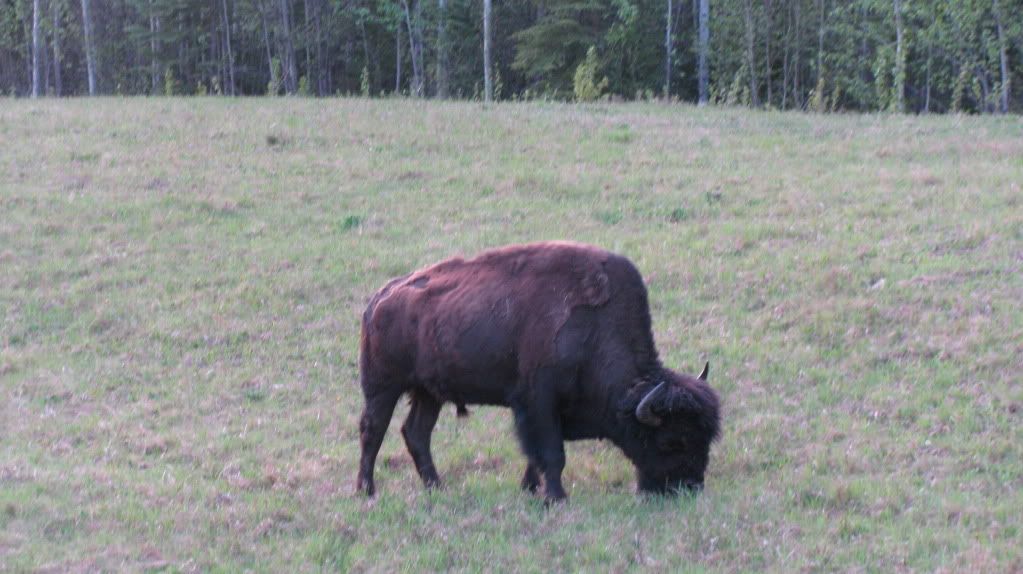 got to liard at 10:15 and it was closed! I went across the street and there was a lodge there. Turns out that they have camp sites available for 10$ and they have showers.

The bonus was having a nice pile of dry hardwood at the site. It turns out i got there just as she was finishing up with a customer. 2 minutes later and i would have been sleeping at the side of the road.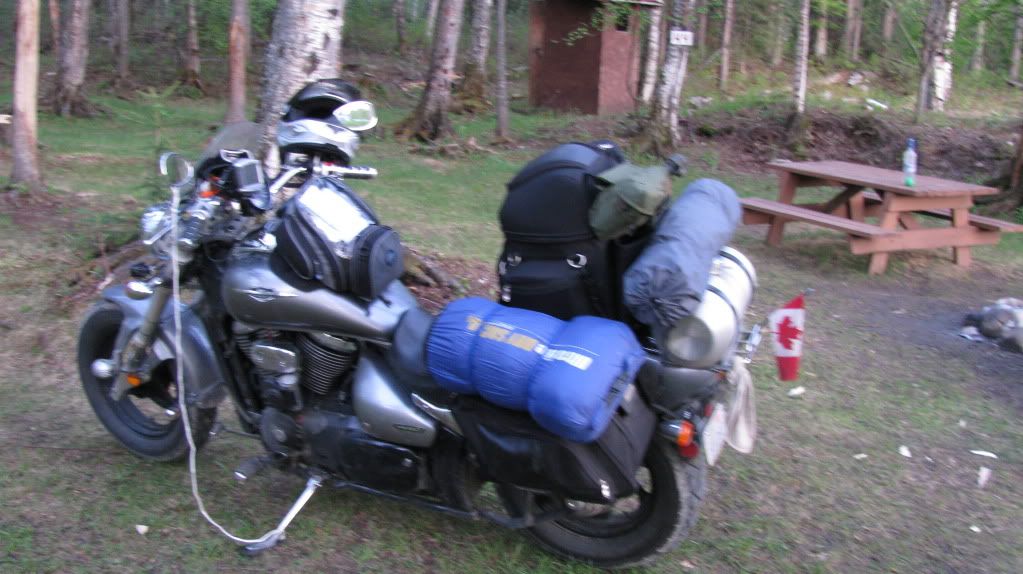 Set up camp, ate and watched the fire. didn't take many pics as setting up camp and stuff kept me busy.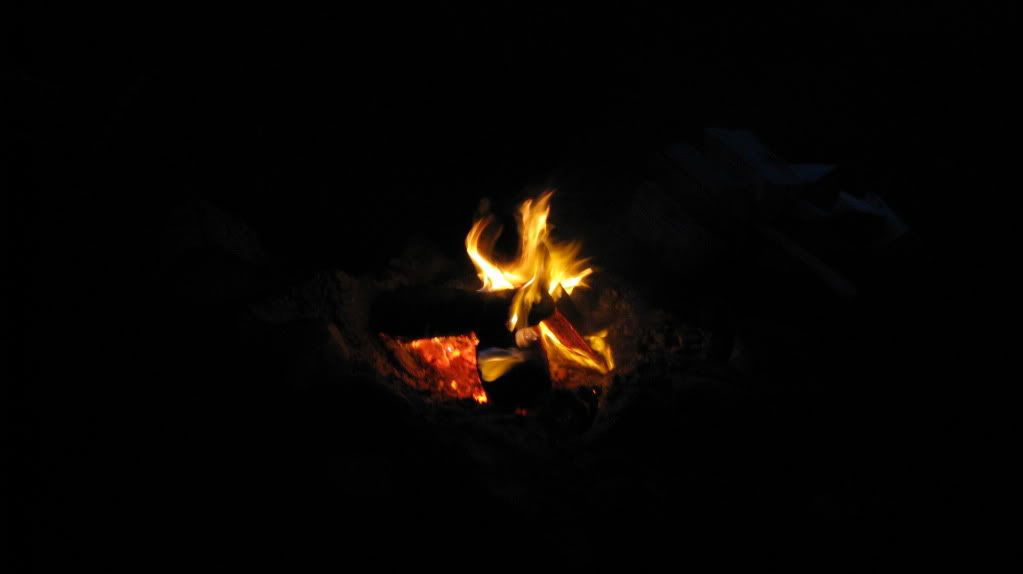 this last pic was taken at 11:52pm. neato